Local Designer Creates Handbags With International Inspiration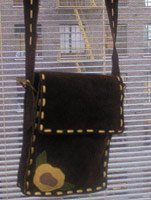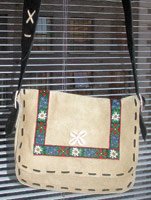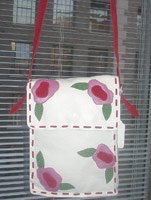 Designer Katie Meehan utilizes her global experiences to create a uniquely handcrafted leather bag collection.
For her first season, the Los Angeles–based designer concentrates on folk themes, with styles suitable for an Acapulco getaway or a holiday in the Swiss Alps. The collection was made with the well-traveled novelty customer in mind, said Meehan, who previously worked as a Hollywood stylist.
Moon-shaped hip purses, messenger bags, shoulder bags and belt bags come in black, tan, red, chocolate and white. Details include patchwork, leather stitching, suede and soft leather flower appliqueacute;s, shell beads and foil treatments.
Wholesale prices range from $40 to $75. Meehan's specialty-store accounts include Fred Segal Santa Monica and Jacqueline Jarrot at the Beverly Center in Los Angeles, and She- Shop.com. For more information, contact the Jeanette Engel/Wayne Engel Showroom in suite B-1069 in the California Market Center at (213) 623-4124. —Claudia Figueroa