L.A. Fashion Week Fall '04: Rachel Pally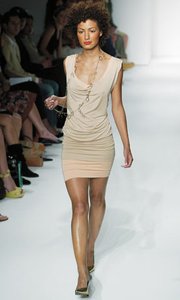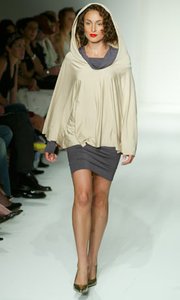 Draped, ruched, pleated and layered. Los Angeles designer Rachel Pally showed that jersey doesn't just mean T-shirts in her March 29 runway show at Mercedes-Benz Fashion Week at Smashbox Studios in Culver City. Pally took jersey to new lengths and new colors and found inspiration in past decades.
For Fall, Pally opted for a dark palette in contrast to the whites she used in her Spring collection because "earthy colors are so yummy."
Showing a mix of charcoal, wheat, peach, rose, wine and cornflower blue, Pally's Fall collection featured jersey reinvented into skinny skirts with peplums, wrap dresses, halter dresses, gauchos and high-waist pants. Tops came in blouson styles and off-the-shoulder ruffled versions, and both tops and dresses appeared over skinny, cropped leggings. Highlights included a wheat-colored hooded poncho worn over a charcoal dress, a black-and-white striped dress with an empire waist, and a '30s-inspired draped-back dress in black and peach.
Last season, Saks Fifth Avenue became the designer's first retail account. Pally described that first order as "a gateway" to other retailers, including Madison, Dari, Planet Blue, Charisma and Henri Bendel, which now all carry the collection.
—A.A.N.
comments powered by

Disqus