Tarrant Shifts Focus From Mexico to In-House Brands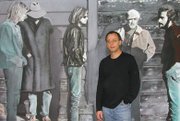 The Tarrant Apparel Group, one of the largest denim companies in Los Angeles, has lost more than $100 million in five years by producing clothes in Mexico.
Part of that comes from losing several major retail and apparel clients, including Express and Lane Bryant, which were pressured by Mexican labor unions to boycott Tarrant. Tarrant expects the boycott will reduce annual sales by $65 million to $75 million. Last year, the company's annual revenues totaled $320.4 million.
Last year, Tarrant wrote down $22 million in connection with the restructuring of its Mexican operations and another $11 million in inventory. The factories are still on the company's books. Tarrant plans to move the factory equipment to China in the next six months.
The expensive mistake is not lost on the company's founder, Gerard Guez, who began investing more than $190 million in his Mexican venture in the late 1990s.
Last year, Guez, the chairman and chief executive of Tarrant, shut down eight sewing factories and leased out two denim and twill mills to a major company shareholder because the factories were not running at capacity and could not turn a profit. The company had a net loss of $35.9 million last year.
"It was probably the most difficult decision I had to make in my life," Guez said of the factory closings, noting that he had been booking new business just to reduce his losses from $3 per pair of jeans to $2.
Branding a new business
Now that Mexico has proved to be a financial fiasco, Guez is embarking on a new business model. He wants to be less dependent on producing private-label clothes for major retail chains and instead develop his own brands under the company's subsidiary, Private Brands Inc.
Last April, Guez paid $1.4 million for an equity interest in American Rag and turned it into a sportswear collection for 18- to 25-year-olds. The line is sold at 180 shops within Federated Department Stores Inc.'s diverse chain of department stores.
Guez said there is talk of starting an American Rag home collection, which would also be sold at Federated stores. And he and Mark Werts, founder of the American Rag stores in San Francisco and Los Angeles, plan to open a small chain of American Rag stores in major cities by the end of 2005.
Guez has resurrected his No Jeans line, which he is selling to The Wet Seal Inc. No Jeans was the first label Guez developed in the 1980s, when he started his company.
"No Jeans is how I got into this business," said Guez at his corporate office inside a boxy building that he and Tarrant's vice chairman, Todd Kay, own and lease to Tarrant for $650,000. Guez maintains a second office on Sunset Boulevard in Hollywood that the company rents for $360,000 a year.
"No Jeans was a brand that was hot in the '80s, and the '80s are coming back," he said, explaining why he resurrected the name. The jeans retail for $59 to $69.
Last year, Guez went to France and purchased the license to Seven7 jeans. That purchase resulted in a lawsuit between Tarrant and L'Koral Industries, a Los Angeles company that produces the popular Seven for All Mankind jeans that sell for more than $100 a pair. Guez, who said the dispute was settled, started shipping Seven7 jeans to Express last September. The jeans, which are manufactured in Asia, earned Tarrant more than $8.4 million in sales by the end of September. The jeans retail for $78 to $110.
Four years ago, Tarrant purchased the Jane Doe line with Needletex Inc., which maintained a 51 percent interest in the collection. The label was shelved after Patrick Bensimon, head of Needletex, and Tarrant disputed the terms of his employment contract.
The companies settled the legal tussle recently, when an arbitrator determined Tarrant would have to pay Bensimon $1.4 million in salary, bonus and interest.
Guez said the Jane Doe tag will remain dormant until Tarrant finds the right retailer to carry the line, which will be created by Tarrant's design team. The brand previously sold in such stores as Nordstrom, Saks Fifth Avenue and Bloomingdale's.
Next on the branding bandwagon is a large-size collection whose label comes from Europe, Guez said. It will also be sold at stores within the Federated department store chain. The deal will be announced in the next couple of weeks, according to Guez.
"We have two or three other ideas we are thinking about," said Guez, who has been in the apparel business for more than 20 years. "We think we have the ability to launch two brands a year."
Guez has been scouting out lesser-known labels in Europe that he could buy an interest in and bring to the U.S. market. Branding is his way of staunching the financial drain the Mexican plants have had on the company.
"I felt it was important for the company to start diversifying its portfolio and branching out to do more of the brand business and have a higher level of equity," he explained. "If a store gets rid of us, we have nothing to show for it. If a brand does not work in one place, it has another life."
Tarrant's Mexican history
At its peak, Tarrant's Mexican operations employed 6,600 people.
The move to Mexico, a country that joined the North American Free Trade Agreement a little more than 10 years ago, seemed a smart gambit because most apparel goods entering the United States from Mexico have duty- and tariff-free status. But the Mexican facilities nibbled away at the company's bottom line to the point that profits became nonexistent for four years.
Tarrant's net losses for the past four years total $47.4 million. The company has not seen a good year since 1999, when revenues totaled $395.3 million and net profit amounted to $12.8 million.
"I think there was clearly some logic behind his decision to go to Mexico. But the world changed quicker than anybody thought," said a former Tarrant financial analyst, noting that China has overtaken other countries as the best place to manufacture apparel.
Even though Tarrant's Mexican sewing factories are closed and the fabric mills are rented out for $6 million a year, the red ink will continue to flow because of the farreaching arm of Mexico's aggressive labor unions. After numerous allegations that Tarrant failed to provide its workers with adequate severance packages and overtime pay and kicked out workers who tried to unionize, the Mexican labor unions began asking Tarrant's biggest retail customers to edge out the apparel company.
Now Tarrant expects to lose between $65 million to $75 million in business this year from some of its most faithful retail clients, Guez said in a recent conference call with financial analysts. That is more than 20 percent of the apparel company's 2003 sales of $320.4 million.
Guez acknowledged that two of those retailers were Lane Bryant and Express. Earlier, Levi Strauss & Co. and Tommy Hilfiger stopped doing business with Tarrant after labor issues erupted at the company's Ajalpan plant in the state of Puebla. The Ajalpan plant, which is near the company's seven other Famian Group sewing factories in Tehuacan, closed on Feb. 3.
"The unrest started in the fourth quarter of last year," said the 48-year-old Guez, who started Tarrant Apparel in 1985 under the name Fashion Resource Inc. "There has been a lot of e-mailing campaigns and contacting the CEOs of major retailers, some of whom have postponed orders until they could get stronger proof of what [the labor unions] are saying. There is absolutely no proof to any of the allegations. We have had to lay off thousands of people. We anticipate a loss of about $65 million to $75 million [in apparel orders] and see no opportunity to replace the sales in the year."
Guez maintains the workers received a fair severance package.
While Tarrant has closed its Mexican apparel factories, the company's labor woes have not disappeared. On March 26, labor organizers and workers from the Ajalpan plant demonstrated outside Tarrant's headquarters in Vernon, Calif. The organizers and Mexican workers planned to go to Washington, D.C., on April 1 to testify before the U.S. National Administrative Office of NAFTA's labor agreement about how the Mexican government allegedly has not enforced labor laws or the right to bargain collectively.
Moving on
Financial analysts who have been following Tarrant's rise and fall believe getting out of Mexico is the best thing that Guez can do to turn the company around.
"For the longer term, it is better to bite the bullet and move on," said one analyst who asked not to be identified.
Laurie Burstein, president of Oakwood Capital Management in Bryn Mawr, Penn., always thought investing a huge amount of capital in Mexican apparel factories was a risky financial decision.
"I thought going into Mexico [to buy factories] was a bad move because of the capital expenditure and because they had never done that before," Burstein said. "They were about sourcing and using other manufacturers."
Tarrant used to produce more than 55 percent of its goods in Mexico, but that number has dwindled to 10 percent. Guez is doing most of his Mexican production at Azteca Production International, an apparel plant in Puebla that is owned by his brothers, Paul and Hubert Guez.
Now Tarrant is sourcing in 15 other countries—including Nepal, India, Egypt, Mongolia, Peru, Hong Kong and China—where wages are up to 80 percent cheaper than in Mexico. Guez said his workers in Mexico made between $500 and $700 each month. In China, apparel workers receive between $50 and $100 each month.
Guez said his first plant in Mexico, opened in 1998, was quickly successful.
"We bought the first plant, and it filled up in less than a year," he noted. "Since we saw the means and potential to fill up the second plant, we bought a second plant. I started with the idea that if you build it, they will come. I built it, and they didn't come."
Guez sees 2004 as a year of transition for his apparel enterprise. He recently closed his 150,000-square-foot warehouse in South Gate, Calif., which he had been leasing for nearly $400,000 a year. The company laid off about eight to 10 workers because of the closure, Guez said.
Guez will be contracting with a warehouse to store his inventory, which has been reduced by more than half since the closing of the Mexican plants.
Whether this new formula will be profitable is still a mystery to many analysts. "You don't know if it will work until it works," Burstein said.