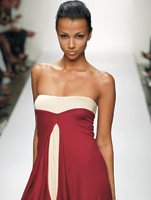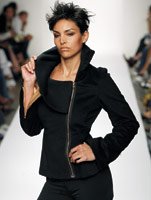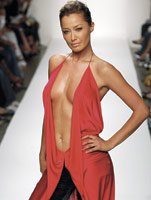 Former stylist Pegah Anvarian, known for her sexy, yet elegant draped cashmere jersey tops and dresses, said her inspiration for her Fall/Winter 2004 collection came from nature. She bowed her Los Angeles–based collection on March 30 at Mercedes-Benz Fashion Week at Smashbox Studios in Culver City.
Anvarian's color palette included combinations such as turquoise and brick, magenta and cream, and black and red. The designer, who said she really wanted to do something different this season, incorporated leather and wovens such as camel hair and viscose wool into the collection. "I'm just seeing it with a little bit more structure, but I'll always keep my look with the draped jersey," she said.
Looks included Anvarian's sexy off-the-shoulder and super-low-cut dresses, halter tunics with handkerchief hems and matching leggings, ponchos paired with pants, and a black leather and cashmere/wool jacket with a black wool pencil skirt. —N.J.S.