Victoria's Secret Debuts New Bra With Gisele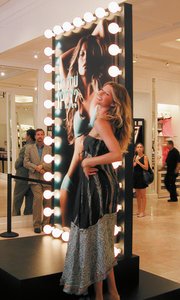 The Body by Victoria collection was one of the biggest sellers for lingerie and beauty retailer Victoria's Secret, according to company spokesperson Sara Tervo. On Aug. 1, Victoria's Secret made a gambit to extend the popularity of the collection, which debuted in March, with the "IPEX Demi" bra. Part of the celebrations included a visit by supermodel Gisele Bundchen to the Victoria's Secret store at The Grove shopping center in Los Angeles.
"We expect this to be a big seller," Tervo said of the demi bra, which features the full attributes of the regular "IPEX" bra. Constructed out of a microfiber material, the "IPEX" bra has the comfort of a sports bra but avoids nipple show-through, according to the company. The demi bra provides half the coverage of the original style. Price points for the new bra range from $45 to $47.
Victoria's Secret's comparative-store sales were flat in June, but the retailer said it hopes to increase sales by offering more variety. Tervo said the company is extending its selection of third-label brands, including English activewear collection Shock Absorber, Italian lingerie line Intimissimi and Paris-based Chantal Thomass. The Victoria's Secret store at The Forum Shops at Caesars in Las Vegas added a storefront for Chantal Thomass in May.
Victoria's Secret is a subsidiary of Columbus, Ohio–based Limited Brands. —Andrew Asch