Jo & Jack: Jersey Tops With California Style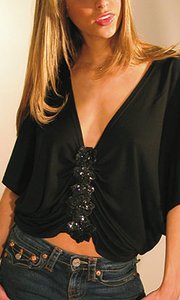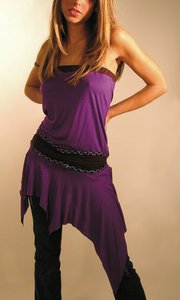 Tania Jo's entrepreneurial spirit runs in the family. The 25-year-old designer started her line of draped and embellished cotton jersey tops, Jo & Jack, last year with a nudge from her mother.
Jo's mother, Zohreh Machuga, is owner of Import Connection Design, ICD Inc., a company based in California's San Fernando Valley that imports and exports personal-care and beauty products. Through her mother's relationships with manufacturers in China, Jo had the opportunity to take into production the designs she had handmade for herself.
One of Jo & Jack's best sellers is the cotton and Tencel jersey "Butterfly" top. The flowing blouse dips into a low "V" with ruching and sequined flower embellishment down the center. "It's not just a T-shirt. It has some flair and embellishment," said Jo, "but it's still comfortable and casual."
Most of Jo's creations follow the same formula of simple, yet flattering design. The tops are ideal with denim and take the wearer from day to night with adornments such as peacock feathers, ostrich feathers, beads and sequins. For next season, she plans to dress up the line more with velvet and lace fabrications. Wholesale price points range from $40 for a lace camisole to $150 for an embellished dress.
"It's all about being very feminine and sexy but keeping it whimsical and childlike," said Jo. "This stuff is not vixen. It's not diva. But it's definitely hot."
Jo has sold her designs to boutique buyers at Planet Blue in Malibu, Calif.; Apartment 3 in Los Angeles; and the Web site Virgin Threads, which specializes in showcasing independent designers. Although she plans to build a solid boutique business, her largest order to date was from Nordstrom's Savvy department for the Pacific Northwest region. For more information, call (818) 883-6205.
—Rhea Cortado
comments powered by

Disqus