Poketo Has Art, Will Travel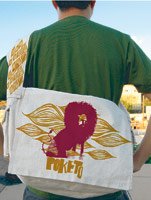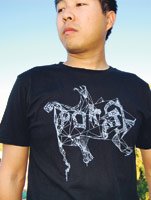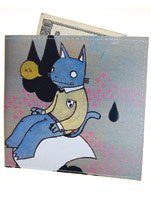 Los Angeles–based company Poketo (pronounced POH-ket-oh) started mixing the artsy with the functional in 2003 when founders Ted Vadakan and Angie Myung offered wallets adorned with graphics designed by more than 45 up-and-coming artists.
The art ranges from comic book-style designs to Jackson Pollock–like splashes, even images inspired by popular indie-rock bands such as The Shins and The Postal Service.
Museum gift stores such as the one at the Museum of Contemporary Art in Los Angeles were among the label's first retail partners. Pop culture boutiques such as Los Angeles' Giant Robot also sold Poketo wallets.
But wallets weren't enough for Poketo. The label started a T-shirt line in 2005. The label also will introduce another line of accessories that mix art with the practical. The label will debut its version of the messenger bag when the MAGIC Marketplace's High 5 Campground opens Feb. 21.
These bags' dimensions will be stretched to feature more of the graphics of several artists such as Philadelphia-based Tim Gough and Tokyo-based Miki Amano.
For example, the bags' straps will be made wider, going from a typical 2-inch strap to a more generous 5-inch strap in order to put more art graphics on the bag, according to Vadakan.
The bags also will feature two outside pockets for iPods or cameras. There are two inside pockets: one lined with a zipper, the other closed by a Velcro pouch.
The bags will come in two sizes. The larger is a 13-inch-high bag. The smaller will be a 9-inch-high bag slightly larger than a woman's purse. The bags' wholesale prices should range from $25 to $35. Wallets wholesale for $10.
Vadakan said his next step may be introducing artsy housewares. "We wanted people to carry art with them," he said. "But homeware has become a lifestyle and a fashion itself."
No matter what form Poketo's accessories will take, Vadakan and Myung resolved to run their business like a successful art gallery. All items will be produced in limited editions of less than 500 pieces. The artists they collaborate with are creative forces they'd line up to see at galleries.
"We're not a factory churning out graphics," Vadakan said. "We wanted to give artists a space where they could do the art they wanted to do and also give them an exhibition space that can be shown across the world. It's kind of a traveling art gallery."
Vadakan and Myung first tried their hands at providing a venue for artists in 2003 when they produced gallery shows in San Francisco. They saw that while interest in art was great, few had the money to purchase paintings.
"It's important to have art in everyday life," he said. "We wanted to make items that people could walk away with," said Vadakan, who also continued his avocation as a video artist while producing Poketo's collection. Myung also continues her work as a graphic artist.
Yet their business also gives them a chance to exhibit art traditionally. Vadakan and Myung produce gallery shows once every three months.
For more information, visit www.poketo.com or call (415) 203- 1303.
—Andrew Asch