Peligrosa: A Sweet Sweater Company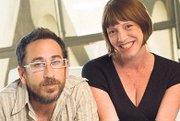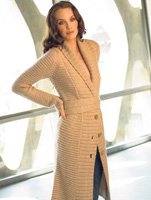 Despite a name that means "dangerous" in Spanish, Los Angeles–based Peligrosa is as nice a company as one can find. Nico Morrison, the chief executive and creative director of the knits brand, is all sunshine and smiles, and her husband and director of product development, Adam Sidell, is equally delightful. It is no surprise then that their line of chic and comfy knits is both ecologically friendly and extremely wearable.
Morrison, a knits veteran, got her start working with mills overseas. In 2001, she launched Mille Nico, a line of sweaters produced in Japan. The line, which she produced for three years, led her into the privatelabel business. Peligrosa was born as a private- label manufacturer in 2003. Eventually, the company's roster of private-label clients read like a who's who of the designer and contemporary categories. Clients included Great China Wall, Rock & Republic, William Rast, Trina Turk, 7 for All Mankind and Taverniti So. "Business was great," Morrison said.
Spurred by their success in sourcing and producing top-quality knits overseas, Morrison and Sidell launched Peligrosa's namesake line in 2005. Their debut Spring/Summer 2006 collection clocked in at 400 pieces, including sweaters, Tshirts, dresses and double-knit jackets. Produced with the Prize Co., a Japanese manufacturer with factories in Hong Kong, Peligrosa's line is made from natural fibers, including soybean cashmere, bamboo cashmere, cotton, wool cashmere and linen.
"There was a gap in the market for quality knits in natural fibers. We want to be conscious and forward but still classic and a little bit funky," Sidell said.
The collection, which includes a capsule of 50 pieces for men, is inspired by the materials the duo sources overseas. "We find materials we love and work around them," Morrison said.
That means the line is packed with paperthin T-shirts and tops perfect for layering, flowing dresses, wrap tops in jewel tones, and long dusters made of the softest cashmere. Little touches, such as tiny cameo buttons, add an upscale feel to the line. Men get cool double-knit blazers lined in bright silk and classic punk-prep striped V-neck sweaters.
Producing overseas has been a boon for Peligrosa. "It's a profitable business," Morrison said. With the combined sales of its private-label offerings and Peligrosa, the company could earn $3 million this year. Not bad for a three-person operation. Morrison adds that working with Prize adds key members to her team. To make sure quality is top-notch, Morrison and Sidell work closely with Yoko Sakahira, a quality-control manager with Prize's planning department who travels between the mills and factories in Japan and Hong Kong. Sakahira's eyes keep Morrison and Sidell's trips overseas to a minimum. "It's a very close relationship, and that's how we like it," Morrison said.
Wholesale prices for the line range from $60 to $150, with special pieces reaching $400. Each silhouette is offered in five or six different colors. Peligrosa also makes its designs available to its private-label clients. During Los Angeles Fashion Market, the line is being shown at the Blue Holdings showroom, suite 1200 at The New Mart. —Erin Barajas