Matrushka Moves to the Sunset Junction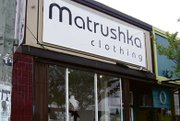 Matrushka Construction has upgraded its digs from its previous location off the beaten path to the Sunset Junction shopping block in the Silver Lake district of Los Angeles. This is the second time that Matrushka owner Laura Howe has moved since she first opened up shop in 2001.
Howe estimates that the new space is 150 square feet larger than her previous location, plus it will draw increased foot traffic. "If you're a tourist and a hipster in L.A., you're going to come [to the Sunset Junction]," said Howe, who plans to add more "challenging" designs to the new store's offerings.
The owner sews many of her original limited-edition Matrushka separates on a sewing machine in the store. Howe caps the run of each style, from artfully patterned and screenprinted tees to easy shift dresses in novelty fabrics and prints, to no more than 20. The fabric remnants are sewn into bags of varying sizes, from long and tubular to square-like, for customers to carry out with their purchase. In the tradition of Howe's former life as a fine artist, she hosts art shows every six weeks and bi-yearly T-shirt parties, where customers can choose the color and patches for a T-shirt and watch the shirt's construction the spot. —Rhea Cortado