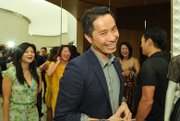 Designer Phillip Lim dropped by his new 3.1 Phillip Lim boutique, 631 N. Robertson Blvd., West Hollywood., Calif., for a June 19 party that drew attendees such as actress Emmy Rossum and designer Magda Berliner. But more than eight months ago, he had no concrete plans to open a store.
Plans changed when he saw the space of a former auto body shop located across the street from boutique space leased by New York design house Steven Alan. Lim said inspiration hit. "As with everything we do at 3.1, it was a 'let's jump head in first' decision," he said.
Lim said the unexpected and the unplanned are important to the look of his label. It's also important to the aesthetic of his 5,000-square-foot boutique, which was designed by architectural firms PARA-Project, LLC and Office/Giancarlo Valle.
Much of the wall space is covered by white, pyramid-shaped acoustic foam. The shape of the curved walls and the geometry of the interior design were intended to guide shoppers to various niches of the store. The separate spaces house different parts of Lim's collection, including his women's, children's and men's fashions.
Lim said more California locations for 3.1 Phillip Lim stores might be in the future for his company. "We always let fate run its course," he said. "So it's a definite possibility." —Andrew Asch