L.A's Crocker Street Emerges as a Wholesale Destination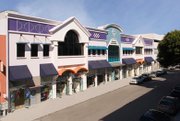 Crocker Street, a narrow two-lane road that runs down the eastern boundary of the Los Angeles Fashion District, is becoming the new wholesaling hot spot for discount juniors fashion and accessories.
The area lures buyers who come from as far away as South America to shop this part of the Fashion District, according to developers.
One of the busiest developers in the area is Beverly Hills–based Maxxam Enterprises LLC, which has five projects on Crocker Street alone. The growing activity led the Fashion District Business Improvement District to annex the street into the district so it could receive sanitation and security services.
Maxxam has just completed a wholesale center called Towne Center at 1025 Towne Ave., located just east of Crocker. The 50,000-square-foot building contains ground-floor showrooms featuring women's apparel and accessories and upper-floor office space. Rents range between $7,000 and $9,000 per month.
The developer renovated an old manufacturing and storage building and invested about $5 million in upgrades. The company also opened a three-story wholesale center at 1160 Crocker featuring 18 showrooms. It has another project under construction at 1030–1144 Crocker St.
"In regards to the general pattern of business, the district has been expanding," said Maxxam principal Michael Soroudi. "We noticed some time ago that there was going to be lots of development opportunities on the horizon, and we saw demand extending eastward to Crocker and Towne streets. They are the next logical corridors," he said.
Maxxam also opened a 60,000-square-foot wholesale center catering to womenswear dealers at 777 E. 12th St. —Robert McAllister