Something to Tweet About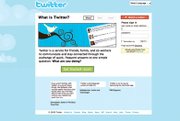 Twitter (www.twitter.com) has made its way out of the confines of the in-the-know, Web-savvy community to garner much undeniable buzz.
The 3-year-old micro-blogging site enables users to send out, or "tweet," status updates that are no more than 140 characters. Twitter is also enabled to send updates via text messaging and through mobile devices.
A slew of users—including journalists, politicians and celebrities—have adopted the technology, and their snappy, quick chatter has become fodder for coverage in the mainstream media.
So what can Twitter mean for the apparel and fashion industry? It can allow for a window into a brand, label or retail store. Its community-driven network fuels industry-related news and talk much faster than blogs and more directly to mobile phones and devices.
Twitter has become a valuable way to communicate and connect with other industry professionals such as designers, fashion writers and retailers, according to Amy Dunn, social-media director for Out of the Box Marketing, a Web-marketing firm in Eugene, Ore.
Already Twitter claims designers such as Diane Von Furstenberg and Marc Jacobs and retailers such as Nordstrom and BlueFly.com as users. During the recent New York and Los Angeles fashion weeks, many media outlets, including the California Apparel News, were reporting in real time and sending updates right from the runway on Twitter.
Debra Stevenson, chief executive officer of Los Angeles–based Buzzflikr, an online public relations firm, assists her many fashion-industry clients in leveraging knowledge of the technology and driving it back to their business. Buzzflikr employed some of its own staffers to send updates directly from the sales floor during the most recent Los Angeles Fashion Market.
"Set up [a Twitter account] with a purpose," Stevenson said. "Use a strategy around communication that is consistent with your corporate communication, blogs, [and] merge communication cohesively."
Stevenson shows her clients that Twitter can be used as more than just a social-networking tool.
"Strategize well-thought-out updates that don't seem like spam to your followers and erode the perception of your brand," Stevenson advised. "It's an opportunity to reach your followers without barriers or filters with an obligation to deliver to them what is newsworthy and relevant."
Designer Jenni Kayne's team tweets from her flagship store, based in West Hollywood, Calif., at www.twitter.com/jennikayne. The staffers at the Jenni Kayne e-tail and bricks-and-mortar stores keep customers up to date on everything from new merchandise coming in to the goings-on at the store.
"We'll see if it ever translates to commercial success," said Marketing and Retail Manager Michal Martinek. "Right now, it's just a fun, super-fast tool to communicate what is happening in and around the store and with the Jenni Kayne brand."
Twitter can also provide a sense of community outreach for the apparel industry. It also becomes completely integrated by connecting Twitter to a brand or store's blog and Web site with the possibility of driving additional traffic, according to Dunn.
"There is an entire fashion community available on Twitter," Dunn said. "I recommend utilizing this social media network to anyone as a means of building meaningful relationships and networking. Not everyone may like or appreciate Twitter—but it cannot be ignored."