Weiland for English Laundry Rocks The Roxy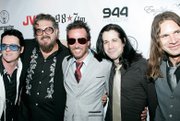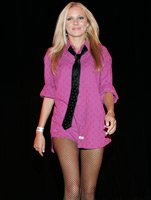 Scott Weiland launched his Weiland for English Laundry collection at the recent MAGIC Marketplace in Las Vegas. And to celebrate the line's debut, the legendary rocker brought his iconic style to the stage at The Roxy in Los Angeles.
Weiland partnered with Los Angeles–based English Laundry on the line. No stranger to the music and the rock 'n' roll lifestyle, English Laundry is a division of Rock & Roll Religion, which includes several music-related brands, including Fender: The Clothing Collection and Jimi Hendrix: The Experience.
English Laundry owner and designer Christopher Wicks worked with Weiland to translate the musician's intrinsic rock 'n' roll style into the collection. According to Wicks, just adding a celebrity name to an item doesn't sell it anymore—there has to be some credibility in being linked with a clothing brand. Weiland, the frontman for the Stone Temple Pilots, said it was fitting for the line's runway debut to be in his hometown. "Some of my earliest shows were at this very place, here at The Roxy. So it's a good place to have a fashion show as well as a rock show," he said. The rocker-turned-designer showcased his menswear collection on female models to add a sexy edge to the presentation. "I think it would be boring [to see men on the runway], so I thought why not have ladies wearing the clothing? It's a bit more original, I think," he explained. While Weiland said he wouldn't wear the collection quite like the girls, who paired their men's shirts and ties with fishnets and heels, he does sport his sophisticated 1970s-inspired Savile Rowe-meets-rocker collection on stage.
Following the runway presentation, Weiland performed a round of his solo hits with his band Saffron Salvos as well as STP hit song "Vasoline."—N. Jayne Seward