Wednesday, March 10, 2010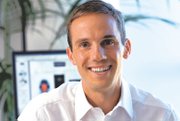 Topher Gaylord, president of premium-denim brand 7 For All Mankind for nearly 18 months, is leaving the Los Angeles company to take a new position with Mountain Hardwear Inc.
Gaylord's last day at the denim company is March 12, according to Leilani Augustine, vice president of marketing and licensing for 7 For All Mankind. No replacement has been announced.
Gaylord will start his new duties as president of Mountain Hardwear—a mountaineering, outdoor equipment and clothing company in Richmond, Calif.—on April 5, said Paige Boucher, one of the company's co-founders.
Mountain Hardwear, a wholly owned subsidiary of Columbia Sportswear Co., has been run by interim President Kirk Richardson since last November. Richardson will help Gaylord get up to speed and then return to Portland, Ore., to resume his duties as Columbia Sportswear's general manager of footwear merchandising.
"Topher is one of those rare individuals who knows what it takes to build performance-based global brands," said Tim Boyle, president and chief executive of Columbia Sportswear. "We believe our Mountain Hardwear and Montrail brands, with combined 2009 sales of $110 million, will benefit greatly from Topher's leadership, knowledge and global experience."
The outdoor nature of the company fits well with Gaylord's personality. The apparel executive, who grew up in the San Francisco area, is an ultra-marathon runner who last year ran The North Face Ultra Trail du Mont Blanc, a 104-mile route around Mont Blanc. It starts in Chamonix, France, and runs through Italy and Switzerland before returning to France.
Gaylord has worked in several capacities for VF Corp., which bought 7 For All Mankind in 2007 for $775 million. Before taking over the top position at the premium-denim brand in October 2008, he was president of VF Corp.'s Outdoor & Action Sports International brands, which included The North Face, Vans, Reef and Jansport. He first joined The North Face in 1993.
Gaylord became president of 7 For All Mankind at a tough time as the economic recession was dampening apparel sales. He admitted in an interview in July that growing revenues was a challenge.
During the first quarter of 2009, 7 For All Mankind's revenues dropped 10 percent. But VF's contemporary-brands division—which encompasses 7 For All Mankind, John Varvatos, Splendid, Ella Moss and Lucy Activewear—saw revenues grow in 2009 to $472 million from $451 million in 2008.
Seven For All Mankind is one of those apparel wonder stories that people dream about when they form a clothing company. The premium-denim house was started in 2000 by veteran apparel maker Peter Koral, jeans designer Jerome Dahan and marketing guru Michael Glasser. Dahan and Glasser had been mulling over the idea of a new blue-jeans company but needed a financial backer. That's when Koral stepped in and offered office space at his L'Koral Inc. headquarters, located near downtown Los Angeles, and financial help.
According to the company's Web site, the cutting-edge jeans company saw its sales zoom to $13 million in the first year. It was a time when premium denim was all the rage.
A few years later, a legal dispute between the three co-founders resulted in Koral having to pay Dahan and Glasser a $55.5 million settlement after the two filed a lawsuit claiming fraud, breach of fiduciary duty and breach of oral contract. Dahan and Glasser left to form a blue-jeans company called Citizens for Humanity. Glasser later left Citizens to launch his own jeans company, called Rich & Skinny.
In 2005, Koral sold 50 percent of the company to Bear Stearns Merchant Banking for $75 million to $100 million.