March Retail Sales Solid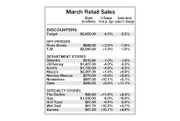 Sales for American chain stores increased 2 percent for March 2011, according to Michael Niemira, chief economist for the International Council of Shopping Centers.
"Sales for the month of March were on the high side of our expectations despite the negative impact of the Easter-date shift and less-than-favorable weather conditions in parts of the country." This year, Easter is on April 24. In 2010, it was scheduled on April 4.
The March 2011 sales increase was proof that the economy is gaining strength, Niemira said. Yet sales results for the month ranged from solid to disappointing for American retailers.
Nordstrom Inc. reported an increase of 5.1 percent in same-store sales for March. Specialty store Buckle Inc. posted an increase of 8.4 percent in its comparable-store sales. Gap Inc. reported an 8 percent decline in same-store sales, which Glenn Murphy, Gap's chief executive, blamed on a late Easter and economic fallout from the Japanese tsunami disaster. Gap runs more than 150 stores in Japan.
Off-pricers Ross Stores Inc. and The TJX Cos. Inc., both reported declines of 1 percent. Statements from both retailers said the results fell within their forecasts for the month.
Those forecasting solid sales noted that March sales were similar to the good sales in the previous month. But Michael McNamara, vice president of research for MasterCard Advisors' SpendingPulse, said March's solid sales rest on a weak foundation.
"We're not seeing an acceleration of momentum from February to March," he said in a prepared statement. He blamed a late Easter and also remarked that high fuel prices had benefitted e-commerce, which increased by 16.1 percent compared with the same time in 2010.
According to SpendingPulse research, total apparel sales made a 4.4 percent gain compared with the same time in the previous year. Sales for women's fashions increased more than 6 percent.
SpendingPulse's Luxury index tracks department stores, high-end apparel sales and restaurants. Spending for this Luxury index increased 8.5 percent during March.
Early reports from teen retailers showed good and challenging March results. The long-suffering Hot Topic Inc. reported a decline of 5 percent in same-store sales to $61.6 million during March, compared with $65.9 million in the same period in 2010. The results were slightly above the Wall Street consensus of a decline of 5.6 percent.
Zumiez Inc. reported a same-store-sales increase of 8.9 percent to $41.2 million, compared with $35.8 million for the same period in 2010.
Weather will heat up across much of the nation in mid to late April, and Needham Co. retail analyst Christine Chen forecast a surge in demand for clothes during that time because of the Easter holiday.—Andrew Asch