Civilianaire: Twice Lucky in Los Angeles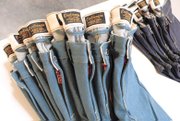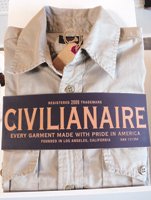 Lucky Brand founders return to their roots to launch high-end denim line Civilianaire.
A year after exiting Lucky Brand, Barry Perlman and Gene Montesano quietly launched Civilianaire, a high-end line of denim and basics for men and women inspired by a vintage military aesthetic and the Japanese appreciation for minimalist jeans.
To hear them tell it, they're just two guys launching a little independent brand of basics that they want to wear. The entire collection is produced in Los Angeles and designed by Perlman and Montesano themselves. The two are hands-on in every aspect of the business, going so far as to make custom hangers themselves when a contractor fell short.
"We have maybe five or six people in our office, including our original patternmaker and sample-maker from Lucky," Montesano said. "We learned that having too many voices—too many ideas coming from too many places—can dilute a brand. The reins on this are going to be real tight."
This particular phase of a brand isn't new to them. "We're playing to ourselves on this one," Perlman said. "It's not fashion. We're not looking to follow trends. We're making [garments] that we want to wear. It was like that in the early days of Lucky Brand, too."
But that's where the similarities end. Lucky Brand, which they launched in 1990 and later sold to Liz Claiborne Inc. for a total of $216.9 million, now operates 150 stores and has international distribution.
"We're the opposite of corporate; we're not real traditional. We're not worried about seasons. We don't think in those terms. We're knee-deep in making great stuff," Perlman said. "Everything about Civilianaire feels personal."
Targeting a different demographic than Lucky Brand, Civilianaire is "for the every-man that has good taste," Montesano said. There are no seasons so far for the collection, which debuted in mid-January when the pair opened a clean, utilitarian Civilianaire storefront at 8312 W. Third Street in Los Angeles without so much as an e-mail announcement. "And our wholesale business for the year so far is zero," Perlman said.
But that doesn't mean they don't want the business to thrive.
Debuting with a singular storefront is part of a plan to eventually court wholesale retailers. "For us, a store is the best way to tell people the story of the brand, whether they are consumers or retailers. It lets us have our own village," Perlman said. Montesano added that it also acts like a design lab and a showroom for when retailers start calling.
Headquartered in Vernon, Calif., the brand is starting small, with a collection that includes T-shirts and rigid jeans for men and women. Men also get military-inspired woven shirts, a twill pant, a classic denim jacket and a twill flack jacket. Women will get more categories soon, Montesano said, including scaled-down versions of the men's shirts and jackets.
The no-frills jeans are dark, minimally rinsed and free of gimmicks. The shirts—cut from soft corduroy and wovens in green, gray and khaki—lack ornamentation. Twill pants are available in army green—but not khaki, because "who needs another pair of khakis?" Montesano said.
There is still a touch of the cheekiness that occasionally got Lucky Brand in hot water, but the approach is more sophisticated this time, Perlman said. Instead of "Lucky You" embroidered into the fly, Civilianaire jeans have branded copper zipper pulls and logo hits hidden inside pant cuffs. Sizes are hand-written into each pair of jeans, and care directions are translated into Japanese, a nod to one of their sources of inspiration. "We still like those small details that let people know we've thought about every part of a jean," Perlman said.
Once they've rounded out their offerings and fine-tuned their production, Perlman and Montesano say, they may begin to target the wholesale market in earnest. "We want the growth to be organic, so we have a day-to-day strategy—not one that looks far into the future," Perlman said. "We shoot a lot from the hip, and our focus is always the product. While others are looking at structure and speculating on trends, we spend that time looking at fabrics and colors and buttons."—Erin Barajas