Blue Pearl by Allen Schwartz: A Return to Designing Jeans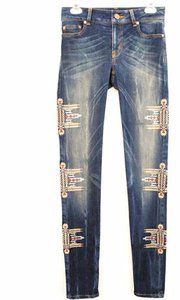 Allen Schwartz is back in jeans.
At WWDMAGIC in Las Vegas, a lifestylecollection with a strong denim element,Blue Pearl by Allen Schwartz, will be introducedby Schwartz, the veteran Los Angeles–headquartered designer of the A.B.S. by AllenSchwartz dress label. It's the first time he hasdesigned jeans since 2008, when he licensedhis Allen B. line to JC Penney. The line isstill sold by the retailer, and it offers denim anddresses.
Schwartz said he wanted to get back into thegame because he missed designing jeans. Healso criticized current denim labels for designingfashion right out of the jeans.
"No one is doing fashion denim!" Schwartzsaid. "They just do five-pocket denim with 20 different washes."
For Schwartz, fashion denim needs embroidery. It needstrims. It needs studs. Blue Pearl Collection offers jeans aswell as shirts, jackets and skirts with his embellishments.
For the Holiday/Pre-Spring collection, which will be deliveredin Oct. 12, there's a Woodstock-inspired fringe jacketwith a loose "boyfriend" fit and there's a jean with Navajostyleembroideries down sides, as well as shirts with Navajo-style embroidered pockets.
Schwartz hopes this line appeals to women of ages from18 to past 70. While the daily experiences of the recent highschool graduate and the mature woman are very different,Schwartz said they will be united in one thing:
"She wants luxury clothing at an affordable price," hesaid. Retail price points should range from $200 to $400.
For the next 15 months, Schwartz hopes to sell BluePearl Collection to more than 300 independent boutiquesand better department stores as well as international retailers.
For more information, contact (213) 895-4400 or info@absstyle.com. —Andrew Asch