DESIGNERS PROFILE
Catching Up With CM Cia.Marítima's Benny Rosset
Photo Gallery
Catching Up With CM Cia.Marítima's Benny Rosset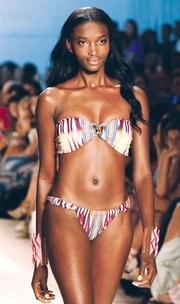 Cia.Marítima is one of Brazil's top names in swimwear and is worn by celebs, including Rihanna and Gisele Bündchen. The brand is owned by The Rosset Group, the country's premier producer of textiles, and its U.S., Canadian and U.K. operations are handled by Oxnard, Calif.–based Style West. This year in Miami the iconic collection relaunched in the U.S. under the name CM and created special cuts and silhouettes for the U.S. market. During Mercedes-Benz Fashion Week Swim, California Apparel News Fashion Editor N. Jayne Seward caught up with founder and design director Benny Rosset to talk inspiration, trends and new developments for the season.
What was the inspiration for Cruise '14?
The inspiration is the gypsetters—those people travel all around the world looking for new things and new behaviors. So, we explored that behavior and brought a lot of new things for the collection—new cuts, new styles, new prints and new colors. Mainly, we have our trademark—that is, the animal prints—which we have to have every year. We brought ethnic prints, also, and very bright colors like orange, purple and blue and the combination of all of themem
CM Cia.Marítima is owned by The Rosset Group. What are some of the fabrics you used?
Ie created a new fabric with a new yarn that we've been developing for the last year. It's a very bright yarn. When you print on that yarn, it's like you watched HD television. The background helps you to print better.
Does it have a specific name?
We have a technical name [but it's known as "Marakesh"].
What else is new?
I think the hot pants will be something hot for summer. In Brazil, they are used to very tiny bottoms, and the Brazilian woman is wearing hot pants now.
Are you offering all of the runway pieces in the collection?
IYes, all the pieces are in the collection. It will depend on the buyers.