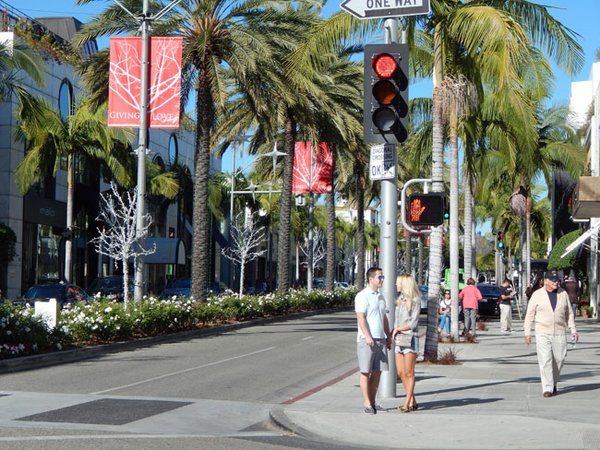 RODEO DRIVE
After DSquared2, Rodeo Drive Will Be Filled Up
There is no room on Rodeo Drive.
It is the first time in recent memory that there is no vacancy on the iconic shopping street, said Jay Luchs, executive vice president for real estate company Newmark Grubb Knight Frank. Luchs has been doing business on the street since 2003 and has closed more than 50 deals on the thoroughfare, known for its flagships of heritage brands such as Hermès, Valentino, Prada and Brooks Bros.
Luchs said that two new deals inked in November might mark the beginning of the period of the lowest vacancy on a street that has traditionally been among the most sought-after retail real estate in the Los Angeles area.
Jim Jahant, president of the merchant group Rodeo Drive Committee and general manager of Brooks Bros., said that even if the vacancy rate is the lowest it has been in years, he expects the street to grow.
Some retailers will be adding extensions and constructing new stories to the buildings that house their flagship stores.
DSquared2, the brand designed by identical twin brothers Dean and Dan Caten, will be among the last crop of new stores on Rodeo. It signed a lease last month to move into 461 N. Rodeo Drive, a 2,200-square-foot space that formerly housed an Etro boutique, which moved a few blocks away to the 2 Rodeo shopping compound at the corner of Wilshire Boulevard and Rodeo Drive.
French brand Zadig & Voltaire also signed a lease last month to move into a 1,100-square-foot space at 465 N. Rodeo Drive, which currently houses a Lana Marks boutique. Luchs handled both deals for Zadig & Voltaire and DSquared2.
Most Rodeo tenants sign 10-year leases, Luchs said. "There won't be a vacancy on Rodeo for quite a while," he said. "You have to get very lucky to find space."
But the street has been welcoming new stores. A new flagship for the Tori Burch label opened at 366 N. Rodeo Drive last month. The Vera Wang brand is scheduled to open a 5,500-square-foot flagship at 428 N. Rodeo Drive in the first quarter of 2014. DSquared2 and Zadig & Voltaire are also scheduled to open their shops during the same time period.
Space on Rodeo does not come cheap, Luchs said. Prices average $45 to $50 per square foot monthly or $550 to $600 per annum. Just a few blocks away on the premiere point of Beverly Drive—where retailers such as Scoop, Alice + Olivia and All Saints moved this year—prices range from $12 to $16 per square foot or $144 to $192 per year. Commercial space for high-profile Los Angeles shopping street Robertson Boulevard has similar price points, ranging from $12 to $17 per month or $144 to $204 per annum. Commercial space on hot Los Angeles shopping street Abbot Kinney Boulevard fetches prices of $9 to $12 per square foot per month or $108 to $144 per year.
There are less-expensive streets in popular shopping areas in Los Angeles, Luchs said. Commercial space on the 8300 block of stylish West Third Street goes for $4 to $5 per month or $48 to $60 per annum. Commercial space on Melrose Avenue near Melrose Place goes for $8 per month or $96 per annum.