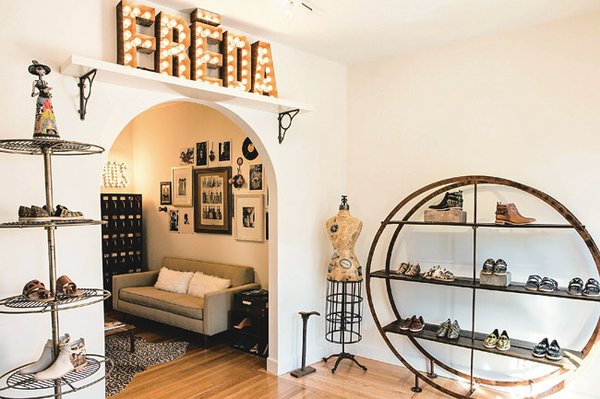 SHOP & DINE
Shop & Dine: Los Angeles, San Francisco, New York, Miami, Dallas, Las Vegas
After you hit the trade-show floors and spend hours shopping for the latest merchandise, take some time to try out some new restaurants and visit a few local boutiques. We have a few suggestions on your next trip through the trade-show circuit.
SAN FRANCISCO
Mason Pacific
1358 Mason St.
(415) 374-7185
High atop Nob Hill sits a new restaurant that is garnering rave reviews by a large band of picky foodies who populate this city by the sea.
Mason Pacific may be a small eatery at the corner of Mason Street and Pacific Avenue, but it packs a big following with its well-curated menu, which is heavy on starters and appetizers, followed by pasta and main dishes.
Almost everyone touts the fried feta that is molten in the middle and served over a pool of peas and fava beans. Another favorite starter is the braised Spanish octopus or the paper-thin Parmesan-dusted potato skins.
The pasta is made right there in the restaurant's kitchen, and choices range from sweet-potato ravioli to garganelli with lamb and Parmesan.
When it comes to main dishes, despite a limited menu, there is something for everyone. Most everyone gushes over the New York steak served with a celery root puree or the market fish of the day that comes with grated cauliflower and pepperoncini sofrito (a Puerto Rican seasoning).
The décor is that of a neighborhood bistro divided into two sections. The bar/lounge area is darker, with more wood and marble countertops, while the dining area is more elegant and lighter in color.
The people behind the restaurant are Shannon McTiernan Thomson, who decorated the interior, and her husband, Jay Thomson, who has a stake in the Copain Vineyards. The chef is Shannon's brother, Sean McTiernan, who worked in several high-end French restaurants before relocating to this side of the Atlantic.
Be advised that street parking is practically non-existent in the neighborhood, but there is valet parking. Or you can ride the Powell/Mason cable car up the hill and have a true San Francisco experience.
Freda Salvador
1782 Union St.
(415) 654-5128
Clothing stores are abundant in San Francisco, but a good independent shoe store is hard to find.
Then along came Freda Salvador, voted by readers at Racked SF as the best new store in the city. And you can see why.
The décor of the multi-room store is decorated as if you had walked into someone's bohemian-style apartment in some exotic locale such as Argentina. It has hardwood floors, vintage furnishings, bookshelves, and an eclectic assortment of art and tchotchkes.
The store was supposed to be a pop-up until the owners, Christina Palomo-Nelson and Megan Papay, saw the space and decided to open up a full-time outpost that is also their design studio and a wholesale office for their shoe line of the same name. The store's name comes from Mexican artist Frida Kahlo and Palomo-Nelson's homeland of El Salvador.
Palomo-Nelson comes from a large shoe-making family. She studied footwear construction and design at Ars Sutoria in Milan, and she got her master's degree in fashion at the Academy of Art University in San Francisco.
Papay studied costume design at the University of Virginia and went on to create her own line of accessories before branching out into footwear.
If you are a person who likes practical but beautiful shoes, this is your place. The footwear, made in a family-run factory in Elida, Spain, about 60 miles from Valencia, is rich on beautiful leather and contemporary designs. Many of the shoes are two-tone or have removable hardware.
There are lace-up loafers, ankle boots, knee-high boots, slipper shoes and boots with a wedged heel displayed on artfully designed racks that look like they came from a bakery or a bookstore.
LOS ANGELES
Terroni
802 S. Spring St.
(213) 954-0300
The historic National City Bank building, just one block from the California Market Center, is the backdrop for the new southern Italian restaurant called Terroni. It is the sister restaurant to an eatery of the same name on Beverly Boulevard near The Grove shopping center in Los Angeles.
Not only is the food scrumptious, but the décor is stunning. Floor-to-ceiling arched walls let diners get a full view of the pedestrian traffic outside. Massive columns hold up the gilt ceiling, and a red sculpture shaped like an Italian racing track dangles overhead. The interior design makes good use of lighting that accents the 1924 architecture. A gorgeous chandelier that could have been hanging in a Venetian palace lights up the main dining room.
Now for the Italian influence on the décor. A movie screen on one wall shows an endless track of Fellini's "La Dolce Vita," the bathrooms have piped-in Italian lessons, and the tables are numbered in Italian.
Terroni is known for its thin-crusted pizzas that come unsliced (just a warning) and southern Italian dishes where the pasta is made on the premises daily and served almost al dente.
People rave about the Margherita pizza—which is served with tomato, mozzarella and basil—or the Polentona pizza, which comes with tomato, mozzarella, fontina, smoked prosciutto and pine nuts.
Pastas include cavatelli alla norma, which is handmade cavatelli in a light tomato sauce with deep-fried eggplant, aged ricotta, basil and garlic, and maccheroncini geppetto, which is maccheroncini with dandelions, homemade spicy Italian sausage, fontina, garlic and olive oil.
For those who may be inspired to try their own hand at Southern Italian cooking, there is a small store within the restaurant that sells the Italian ingredients you just ate.
Guerilla Atelier
821 E. Third St.
(310) 365-2194
A touch of Beverly Hills has alighted in the historic Arts District adjacent to downtown Los Angeles.
This spring, Carl Louisville opened a pop-up clothing shop in the industrial neighborhood, which has seen its warehouses and factories converted into artists' lofts. The area is filling up with coffee houses, breweries and hip restaurants.
A month after opening, Louisville was convinced this was the spot to be for the long haul. In June, he committed to a 5,000-square-foot outpost inside a chic warehouse-like space with tall ceilings, red brick walls and cement floors.
There is plenty of room to display the luxe designer labels of men's and women's apparel that hang on rolling racks and mannequins or are displayed on tables. There are high-end European brands as well as local contemporary labels.
One of the best sellers at the store has been a men's jacket made of Japanese denim that is constantly on order. It is made by Los Angeles–based Mister Freedom. Another Los Angeles brand carried is Beckley by Melissa. Loungewear by French label Venus et Judes is also popular.
Louisville is the perfect person to run this kind of shop. He is in love with all things beautiful, which may have come from his 15 years working at Prada's Epicenter store on Rodeo Drive.
While on Rodeo Drive, he was unofficially known as the mayor of Beverly Hills for his extensive knowledge of where things are located.
MIAMI
Colette Little French Bistro
1223 Lincoln Road
(305) 534-7888
French restaurants are a bit of a rarity in Miami Beach, but a new eatery that is run by Frenchmen who love to offer a traditional French menu opened recently on the pedestrian way of Lincoln Road.
Diners rave about the delicious menu and the reasonable prices—you can get a glass of wine for under $10.
The men behind the menu are Francis Pittilloni and Chef de Cuisine Frederic Boldron, who previously worked at Miami's Tosca and Villa Mayfair.
There is indoor dining for those who want to concentrate on the food and outdoor dining for those who like to people watch while they savor a French appetizer such as mussels meunière served in a white wine sauce.
The menu sticks toward bistro fare. There is plenty of red meat, such as the steak au poivre with a cracked peppercorn sauce or a tender filet covered with a béarnaise sauce.
The décor is heavy on wood. There are wood floors, wood tables and wood wine racks. Woven bistro chairs give the place a Parisian feel. Diners have raved about the attentive wait staff.
Scotch & Soda
442 Lincoln Road
(305) 673-5514
Scotch & Soda may be a retail chain, but sightings of the European brand are rare in the United States. There are less than a dozen outposts in the U.S.
Scotch & Soda opened its first South Beach location in a compact space on the Lincoln Road pedestrian mall.
If you like European-influenced contemporary fashions that veer toward the casual, this place is for you. There are clothes for men, women and children.
The Amsterdam-based line has gone through a makeover in the last decade, having been taken over by three new owners in 2001. The line of mostly menswear was relaunched for Spring/Summer 2002 with offerings for children and women coming later. The retailer launched a new line of premium denim, called Amsterdam Blauw, in 2010.
Prices for most things range from $100 to $350. Women's rib-cord skinny-leg pants sell for $129. A silk Oriental jacquard women's top goes for $169. And a black dress with lace inserts carries a $169 price tag.
NEW YORK
The Marrow
99 Bank St.
(212) 428-6000
There is life after those reality TV cooking shows. For Harold Dieterle, who was the Season One winner of "Top Chef," it meant going on to create some wonderful restaurants in New York.
His latest addition to the Big Apple is The Marrow, an eatery with a schizophrenic menu. On one side are listed a number of Italian dishes while on the other is a range of German dishes. The selection is an homage to Dieterle's Italian-heritage mother and his father's German roots.
The menu is anything but ordinary. And that is a good thing. Special call-outs include the duck schnitzel, the ricotta cavatelli with octopus and the grilled lamb loin chop. The front-and-center dish, of course, is the bone marrow served with sea urchin. Everyone raves about it.
Other delicacies include pumpernickel-encrusted salmon and the white balsamic-glazed black cod served with roasted mushrooms, fennel and eggplant basil sauce.
Situated in the West Village, the restaurant sits on a corner in a building with rounded windows. The décor is mindful of a 1950s coffee shop with dark red leather booths and 19th-century-style black-and-white flocked wallpaper. It looks very mid-century.
Blessed Peacemakers
149 Ludlow St.
(646) 861-2780
This Lower Eastside shop has a distinctive bohemian feel to it with clothes ranging from fashions with a hippie vibe to sophisticated dresses and shoes.
Stepping into Blessed Peacemakers is like taking a quick trip to Morocco. Oriental rugs line the floor, and one corner is decorated with couches covered in bright Moroccan prints. A swatch of gauzy fabric is draped across the ceiling to give the place the vibe of a Bedouin encampment.
The store is the brainchild of Kim Phan, the designer behind the Yumi Kim contemporary line, carried in stores such as Anthropologie and Bloomingdale's.
There are already two Yumi Kim stores in Manhattan, but Phan went for a more whimsical approach to retail with Blessed Peacemakers, which is a multiline store. Everything is handpicked by the designer, including the housewares.
Labels include Dolce Vita, Jealous Tomato, Flying Tomato and MinkPink. There are gobs of Asian-influenced baubles, rings and necklaces.
It's a fun place to shop, and prices aren't outrageous. Kim's motto is "Spreading peace, love and happiness, one garment at a time."
DALLAS
Chantilly
1130 Dragon St., Suite 190
(214) 749-5757
When two designers who love fashion get together, what do they do? They open a boutique with a small manufacturing area in the back.
Chelsea Brogdon and Caitlyn Multanix opened their Chantilly boutique in the Dallas Design District in September. The 3,500-square-foot space has an industrial feel to it with exposed pipes, stained concrete and white walls punctuated with teal accent walls. Diverging from the industrial look is a nod toward fashion with chandeliers in each dressing room.
For the woman who likes to shop with her boyfriend or husband, there is a "man cave" in the store where men can plop down on a couch and watch whatever they want on a flat-screen TV.
The boutique carries about 15 to 20 lines that include women's clothing, handbags, jewelry and sunglasses. Apparel selections cover casualwear to eveningwear with prices ranging from $20 to $175. "It is very affordable," Multanix said.
In the back, two seamstresses work full time on the designers' new label, called Tinsley Radix, which debuts in early 2014. The contemporary line, with several eveningwear pieces, will be available in the Chantilly store next year.
The advantage of having a manufacturing area inside the store is that the two designers offer custom tailoring. "We like the idea of being able to alter things," Multanix said. "One of our customers came in and tried on a dress. She was an extra small, so we took the straps in a little. We don't mind doing that. We want our customers to feel comfortable and confident."
Mesero Miguel
2822 N. Herderson Ave.
(214) 821-6426
Restaurateur Mico Rodriguez created a Mexican–meets–all-American grill menu for his latest eatery, Mesero Miguel.
While the menu has a south-of-the-border feel for some plates, the décor is definitely Southern California. "It's more LA than Los Angeles," said the long-time businessman, whose other outposts include Mi Cocina, Taco Diner and Mr. Mesero.
The two-story establishment has two bars. The upstairs bar is called Pedro, a nod to Spanish film director Pedro Almodóvar. "I love him as a filmmaker and I love his cinematography," Rodriguez said. "And I have developed a wardrobe of restaurants and am an executive producer, too. You start with a blank canvas in the morning and you end with a dark canvas in the evening."
When it comes to creation, Rodriguez had some help from chef Jon Stevens in designing the menu.
Dishes include albondigas, or meatballs, served with white queso and salsa roja, braised beef short ribs, served with Guaillo cheese grits and pickled red onions, as well as a 14-ounce New York strip.
Signature dishes include La Rosa Pistola (seared scallops, warm coconut and prickly pear broth) and Alaskan halibut. Some special call-outs are the mole enchiladas, the brisket tacos, and the cheese, tomatillo and chicken tacos.
LAS VEGAS
Chada Thai & Wine
3400 S. Jones Blvd., #11A
(702) 641-1345
Sometimes it's good to get off The Strip and venture out into territory frequented by the locals.
If that's your aim, then you will be well advised to stop by Chada Thai & Wine, which is a 10-minute drive from the gambling casinos and into Las Vegas' Chinatown.
The man behind Chada Thai is Bank Atcharawan, who for years was the sommelier at Lotus of Siam. He was known there for his extensive list of Riesling wines, and that has carried over to his new venture.
At Chada Thai, he is both sommelier and chef, which means there is a spectacular wine list to go with the spectacular food.
The menu is known for its Southern Thai– and Bangkok-style of cuisine, which explores a range of dishes. A favorite has been the crab curry served with thin rice noodles or the shrimp satay with peanut sauce and cucumber salad.
No Thai restaurant would really be authentic without green papaya salad served with a spicy lime dressing or lemongrass soup with shrimp and mushrooms. The menu goes on for three pages, so there is lots to explore.
Chada Thai only serves dinner but remains open until 3 a.m.
Electric Lemonade Shop
220 E. Charleston Blvd.
(702) 776-7766
Take a trip to the Las Vegas Arts District to rifle through the vintage and contemporary fashions stocked for men and women at the Electric Lemonade Shop, which is the brainchild of sisters Kinsey and Courtney Peters.
There is not only a full stock of vintage apparel with a modern flair but up-and-coming designer duds that evoke a modern air with offerings in clothing, accessories, jewelry and shoes.
The retail space has concrete floors and white walls punctuated with a splash of lemonade yellow.
The sisters, Ohio natives, have been longtime collectors of vintage clothing, going back to their college days, when they sold items on eBay to help pay for school.
Then they lived in Brooklyn, N.Y., for a while, where Courtney worked at Odd Twin, a vintage store in the Park Slope district.
But their dream was to open their own vintage-clothing store. And now they are expanding. At the end of November, they are holding a grand opening to celebrate another 1,000 square feet of space for vintage clothing on the second floor.
RELATED STORIES