DESIGNER PROFILE
Best Dressed Monk to Debut Store, Fashion Line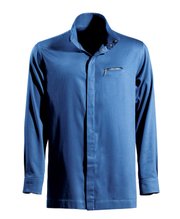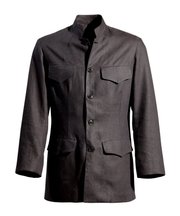 When men's fashion label Best Dressed Monk opens its first boutique in Santa Barbara, Calif.'s exclusive Montecito enclave today, it hopes to give men a sartorial choice between fashion extremes.
After age 25, men don't have to dress like nightclubbing college kids. They don't have to dress in a stodgy way either. Best Dressed Monk co-owners Allen and Kira Gold believe they have a sartorially unique alternative.
The debut line of Best Dressed Monk features South Asian– and California-inspired clothes that Allen Gold hopes offer a panache and an elegant ease. "Not a single shirt in the line is designed to be tucked in," he said.
The 32-inch-long shirts are intended to hang with the grace of a summer blazer but also have the casual feel of a polo shirt. Some feature a spread collar, others have banded collars, and one shirt has a unique shawl collar reminiscent of a Nehru jacket.
With a South Asian–influenced line, there had to be a Nehru jacket—albeit, the line calls it a "fitted military safari jacket," or a Nehru translated through an urban, California prism. Other looks include vests, overcoats, pants with a narrow silhouette and yoga-inspired styles.
In an effort to make sustainable fashion, Best Dressed Monk's clothes are made out of Sea Island cotton, Tencel and Khadi cotton from India. Retail price points range from $225 to $375 for shirts, $700 to $900 for coats and $250 for pants. Gold said the line has not formally confirmed wholesale prices.
Kira Gold has worked as a costume designer. Allen Gold started his career in fashion publicity in the 1960s era of Swinging London. Later, he ran boutiques and most recently worked in finance. Also joining the Best Dressed Monk team is Greg Niebel, who ran the pioneering boutique B.NY in Santa Monica, Calif. It closed in 2009, but during its 20-year run it introduced designers such as Yohji Yamamoto and Issey Miyake to the Los Angeles area. Niebel will be running Best Dressed Monk as a retail business manager and merchandiser.
After the debut of the Best Dressed Monk boutique, Gold hopes to wholesale the line and perhaps open several Best Dressed Monk boutiques in the future. For more information, contact (805) 324-4600 or email allen@bestdressedmonk.com.