Sue Wong Channels the 1920s for Spring 2014
Photo Gallery
LA Fashion Week Spring 14: Sue Wong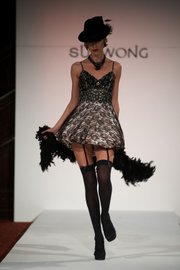 October 8, 2013 | Sue Wong "Jazz Babies" show during LA Fashion Week '14S | Cicada, Downtown Los Angeles | Photo by Volker Corell
Glamour and glitz were the hallmarks of Sue Wong's presentation Wednesday night of her Spring 2014 collection that was long on lace, beaded accents, seutache embroidery and flowing chiffon.
The fashion doyenne chose to unveil her line-up of 73 dresses on a make-shift runway set up in the middle of La Cicada restaurant, one of the most beautiful eateries in downtown Los Angeles. The Art Deco decor oozes an era left over from "The Great Gatsby."
The venue was appropriate for her collection called the "Jazz Babies," where design cues were taken from the post World War I-era of the Roaring 20s. Many flapper-style silhouettes made an appearance on the catwalk.

A fashionably dressed crowd turned out for the event. There were celebrities such as Kelly Hu, Breann Johnson, who stars in the indie film "Red Wing," NBA basketball star John Salley and his wife, Natasha Salley, Sloane Avery, Sarah Dumont from the film "Don Jon," model Janice Dickenson, and Mel Gibson's new girlfriend, Nadia LanFranconi.
The color story for the Spring 2014 collection was filled with variation, from champagne beige, black and platinum to bright blues, corals and greens. There was everything from evening gowns to bubble dresses and mermaid gowns.
The designer's array of new looks earned her a standing ovation.