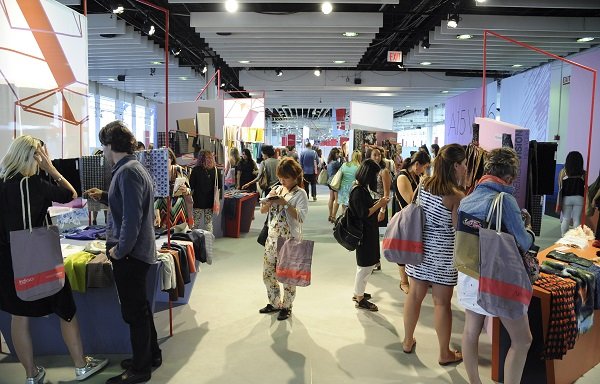 PREMIERE VISION NEW YORK
All-Time High Turnout at New, Expanded Venue
NEW YORK—As more than 300 vendors gathered for the Fall/Winter 2015/16 Première Vision New York and Indigo New York shows at Pier 92—perched over the Hudson River on the western edge of Manhattan—reaction to the new venue ranged from pleasure at the airy one-floor space, which the event's organizers carpeted in advance, to some grumbles at having to travel so far from midtown. The July 22–23 show, held for the first time in this new venue, moved from Chelsea, where it had been spread out over five floors.
Attendance was at an all-time high, with 4,340 registered visits, a 7 percent increase over July 2013. These figures include a 46 percent increase in visitors from foreign countries, with a high percentage from Canada. The huge offering also drew a 25.7 percent increase in visitors from California.
The show also attracted 16 percent more vendors than 2013, said Première Vision Chief Executive Officer and President Pierre Pasquet, another reason for the move from the Metropolitan Pavilion and Altman Building. "[The previous venue] was a good location for us, but since the market is growing and there is more interest in the American market, we clearly had a lack of space. For the last two editions of PV, we had to turn away pre-selected exhibitors," he said.
Pasquet said that finding a new location available during a busy week—the same time as Kingpins, Texworld USA and other shows were held in New York—was difficult. "There's really a lack of exhibition opportunities. This way we have everyone on one floor, with very clean, clear information. Now it feels like a real show!" he said.
Exhibitors came from 17 nations, with the majority from Italy (35 percent), Turkey (19 percent) and France (16 percent). With only 4.5 percent coming from Japan, the country was also represented by the winner of the Première Vision Grand Jury Prize, Kenta Matsushige, for his "Hinabi" collection. The collection was produced with the support of Première Vision, Tessitura Monti India Pvt. and NIKKE-The Japan Wool Textile Co. Matsushige, a soft-spoken 26-year-old based in Paris, showed his cotton tunics and carefully constructed pale gray wool jackets, a shoulder and hem lightly sprinkled with pale gray Swarovski crystals.
Arvind, India's largest mill, founded in 1931 and based in Ahmedabad, offered a range of cottons that resembled flannel. "We have a lot of new indigo fabrics and textures," said U.S. country manager Puneet Singh. An example was an indigo chambray that looked heavily structured but is a surface print. Their booth was filled with buyers, many of whom liked their jaspes and dobby. "Color-coated denim is something new people are responding to," he said. Unlike some PV vendors, "we work from premium to mass. We serve almost all the spectrum," he said.
At Solstiss SA, a French lace manufacturer, Sandrine Bernard offered the manufacturer's new collection, filled with rich warm jewel tones, such as a red floral with gold edges, a stunning, multi-layered cobalt blue with black edges, a soft rose and a lace with a spiderweb pattern in purple, mixed with deep-pink flowers. One light-brown lace with long spider-web shapes woven into it was still selling "very well," even after a decade, perhaps thanks to its designer—Alexander McQueen.
French manufacturer Deveaux SA has more than 150 American customers, many of whom were seeking out their woven jacquards in burgundy, deep blue and black. Bold ethnic-inspired looks were popular for jackets while soft, washed-out tones of beige and olive were also popular. "Our U.S. customers want stretch in their fabrics for short skirts and sexy dresses," said export manager Romain Berard.Textured wools covered with a surface layer of foil—in gold or bronze— were also of interest, he said. "Everyone wants it!These sell very, very well and will help us find new markets."
KBC from Lorrach, Germany, showed crepes and textures with and without stretch. Digital prints on polyester—such as a blurred yellow and red image of a rose on a faded green-ish gray background—were popular. Designer Philippe Labourdette said graphics, graphic abstracts, florals and vintage-looking pieces were doing well. One of his designs—a floral print in primary colors of red, yellow and cobalt blue on a cream background—was offered in different scales, from bold to tiny. "It's very vintage in look," he said.
London-based Laurent Garigue offered everything from emerald-green wool to a fantasy sheer layered with multi-colored woolen tufts, made by mills in Yorkshire. "Everyone has been looking for cashmere and polka dots," said designer Laurent Garigue, who is carrying on the work of the firm founded by his father in 1947. A digital print of one of his tweeds, printed onto duppioni, was also popular. Animals prints are "overdone," he said, and were not on offer. Neutrals are "very popular. Everyone wants that these days."
A supple lamé gabardine—produced in olive, dark brown, deep orange, peach, gray and blue-gray, shimmering with the subtlest hint of gold—is one of his newest designs—and is $63.50 per meter. "I try to make things that are as pretty as possible," he said. "If you make a beautiful piece of cloth, you'll always find a customer for it. We've lost sight of that in the past decade. The offering is being edited down to nothing, with too much emphasis on cost-cutting." (One of his clients is Queen Elizabeth II.)
The luxury business, he added, "has never been better. That $2,000 jacket? There have never been so many people who can afford it. This the best I've ever known it."
Browne Dog Studio, based in Laguna Beach, Calif., saw interest in its florals in gray and black for pants and shirt designers. Blues were selling well, as were bright digital prints of woven fabric Guatemalan friendship bracelets, said Evangelista Sagnelli. "This conversational group has been phenomenal for us," he said, pointing to his images of Volkswagen minivans, flip-flips and anchors. "It seems juvenile and naïve," but buyers from Pacific Sun, Abercrombie & Fitch and Title IX appreciate them, he said.
The show included a first—a well-attended 75-minute, seven-person seminar on responsible creation, with passionate discussion and many audience questions about how to meld sustainability, style and profit. Rossella Ravagli, head of corporate sustainability and responsibility at Gucci, said the company has focused on it since 2004. "Our suppliers are part of our system. It's fundamental to involve our entire supply chain."
Inka Apter, manager of fabric R&D with Irvington, N.Y.–based Eileen Fisher, said that for Spring 2014, 50 percent of its materials are sustainable, 70 percent of its cotton is organic and 60 percent of its linen is organic linen.
Model and activist Amber Valletta reminded the audience that consumers need the industry's focus and direction to help them make the right choices.
"They just want to buy what they want to buy. It's up to us to make it fun, aspirational and desirable to shop sustainably. It's not about drawing trees with circles and hearts. We're past that. It's about great design."