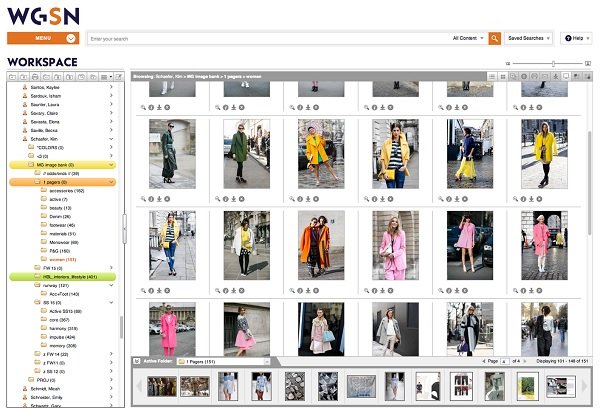 REDESIGNED WGSN/STYLESIGHT WEBSITE
Business Tools for Capitalizing on Trend Information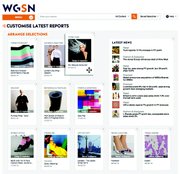 Global trend and style intelligence firm WGSN relaunched its website to combine its strengths with Stylesight, the New York–based trend forecasting firm it acquired last November.
The new site is based on Stylesight's intuitive and easy-to-navigate platform and features all the style news, data and analysis gathered by both companies. The new site also gives users new tools to efficiently research style information, organize it and share it with coworkers, clients and sourcing partners.
"What we've done is we've taken the Stylesight platform, and we've taken the best of those two content teams and put that together and enhanced it considerably to put together what we consider a super platform," said Kevin Silk, general manager of WGSN North America.
Silk describes the process as "really deep-level customer advisory—all the way down to actually observing people using the site and seeing what their usability patterns are and how we can improve them."
The consumer research found that WGSN users and Stylesight users valued each company's strengths for different reasons, Silk said.
"We've done a lot to preserve the two because they were viewed as best-in-class on both sides," he said.
On the new site, users can request tailored content based on their company's focus and the user's interests.
"We are providing a tremendous amount of information to people," Silk said. "What's the biggest challenge they have today? It's the ability to get at that information. More and more we're finding out our customers are reaching out to us for specific, tailored content to their individual companies."
In addition to custom information, the new site also gives users design tools and a workspace to gather information and share it. For example, Silk said, a designer may log into the site and first access a macro trend forecast. From there, he or she can access WGSN's image library and begin gathering images to save to the workspace. There are also three color libraries and a library of about 65,000 print graphics. All of this information can be gathered into the workspace and then organized into folders in the workspace, which can be printed, saved as a PDF or shared.
"You start developing a collaborative set of information that you could share with your coworkers if you're working on a project together," Silk said. "You could start building a folder that would be the essence of a presentation to your management team or buying group. Or you can even share it outside the company to start a sourcing conversation."
There's also an area for inspiration and informative blogs where users can clip and save information directly to their workspace.
"Inspiration comes from many different places," Silk said. "It's really this concept of bringing all of this information to a single spot where you can work with it and [collaborate] and [share it]."
The ability to share information is particularly useful for companies trying to share design information across several offices, said Andrea Bell, WGSN editor of retail and consumer research, who works in WGSN's new office in Culver City, Calif.
"California has a lot of satellite offices for denim, ath-leisure, yoga. It takes a long time to upload CADs, and it takes a lot of space. This is something global design teams can go in and look at what's happening at the LA–based office or the San Francisco–based office and see the design packs and have everything there. It's such a useful tool at everyone's fingertips. It maximizes creativity and minimizes time for designers."
WGSN is a subscription service with annual fees starting in the thousands and increasing based on the number of users.
"There's so much information out there that people can get their hands on for free. Why would people use our service?" Silk said. "One is because we're giving them a really powerful toolset. Two, you can go out and do that yourself, but we have a huge global reach. There's over 500 people in the company now. We have experts who take this explosion of information from around the world, and we distill it down into really actionable insights. It would be impossible to do what we do with the reach we have. You can just take trade shows. We cover 150 trade shows. You couldn't do that by yourself. We really think this is a powerful combination. When you marry all of that up to a site that's highly usable and intuitive, it's really a home run."
Innovation strategy
Last year, WGSN introduced InStock, a service that allows subscribers to see product and price data gathered from about 100 e-commerce sites on a daily basis.
"We're pulling down about 700,000 SKUs a night," Silk said. "It gives you a real-time view of what is being put up on these sites, what is being marked down and what the colors are. You can see, by retailer, what their color mix is and what the product mix is."
This information can be especially useful for retailers looking to buy closer to season in order to capitalize on trends.
"They could go on to InStock and see that yellow shirts are being marked down and see that there's a tremendous amount of red shoes being put up on those sites," Silk said. "They could quickly change their buying patterns."
Instock bridges the gap between trend forecasting's long view—what Silk calls the company's DNA—and the day-to-day shifts in consumers' preferences at retail.
"Trend forecasting is obviously a key component of what we do," Silk said. "Now we're filling in the gaps from real time all the way through to that two-year trend-forecast cycle. We're giving [retailers] what's happening today and what they should be concerned with tomorrow."
Silk promises more innovation from WGSN following the merger with Stylesight.
"Our customer base is pretty wide—[although] apparel is certainly a core component of it," he said. "We've got car companies and paint companies and accessories companies. There's so many cross sections between the style and design world."
"This is just the first step," Silk said. "Our goal is to really become that No. 1 insight subscription provider to consumer-product companies."
WGSN is hosting a Buyer's Briefing for Spring/Summer '15, presented by Bell, at the MAGIC trade show in Las Vegas on Aug. 18 at 3:30 p.m. at the Las Vegas Convention Center.