As of Thursday, August 7, 2014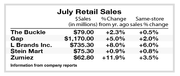 The Back-to-School season might start with a bang.
Retail sales for July, often considered a harbinger to the Back-to-School season, increased 5.4 percent, according to Jesse Tron, spokesperson for International Council of Shopping Centers, a prominent trade group for the mall business.
"Sales posted an even stronger-than-expected pace this month—a very positive sign for retailers as we begin the Back-to-School shopping season," Tron said. "Our Back-to-School consumer survey indicated that consumers plan to complete the majority of their purchases in August, so we fully expect the strong sales trend to continue next month," he added. ICSC's survey said that 59 percent of respondents would shop in August.

Teen retailers looked good, according to prominent retail analyst Adrienne Tennant, who works for Janney Capital Markets.
"With Back-to-School drawing near, particularly for colleges and early-BTS states, we noted a nice boost to traffic and sales at the end of July. Teen retailers are fully set for BTS and are beginning the season with compelling and aggressive promotions, both in-store and online," she wrote in an Aug. 7 research note.
In her note, the sales pace of the month started out in a "choppy" manner, but some tax-free holidays in Florida and some southern states helped boost traffic at the end of the month.
If there are retailers who might not have a good summer, Tennant forecast, it may be the shops that serve the moms of the Back-to-School kids. "The misses consumer continues to lack reason to buy until the September/October time frame," she wrote.
On Aug. 7, Gap Inc. reported results for July and the second quarter of its 2014 fiscal year. For its second quarter, the San Francisco–based retail giant's net sales increased 3 percent to $3.98 billion compared with $3.87 billion for the same period in the previous fiscal year, but its comparable sales for the quarter were flat, according to a company statement.