As of Thursday, August 7, 2014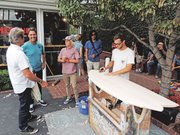 With surf music playing in the background and boards being shaped on site, new surf label Vissla showcased its debut collection on Aug. 2 with a pop-up shop at the Ron Herman boutique at the Fred Segal boutique compound in Los Angeles.
The pop-up shop displayed Vissla's caps, boardshorts and T-shirts, and it also intended to deliver some new perspectives said Kevin Via, a sales rep for Vissla. Surfing is a lot bigger than many think it is, he said.
When he started working for the brand, he fielded criticism that surf was dominated by a few big players and there was no room for anybody else. "We showed that new brands could do as much business in the specialty market as some of the major surf brands," Via said. "Our customer is looking for something new, and we've had success because of that." The debut collection also is sold in prominent Southern California surf shops such as ZJ Boarding House in Santa Monica, Val Surf in Valley Village and Jack's Surfboards in Huntington Beach.
The pop-up shop party was co-produced by What Youth, a glossy surfing mag that started publishing in 2012 with a new outlook on reporting on the surfing world, said Travis Ferre, the publication's editor-in-chief. "We're looking for waves, and we're trying to experience everything around us," Ferre said of the coffee table–sized issues of his magazine. What Youth has published stories on bebop jazz with interviews on surf heroes and finding the perfect wave in Bali.
During the event, pioneering retailer Ron Herman shot pictures of the crowd at the party as well as surf band The Mattson 2, a duo comprised of twin brothers Jared and Jonathan Mattson. They performed outside of the boutique, where artisanal board shaper Donald Brink shaped a balsa-wood surf board. Also taking in the event was Paul Naude, the surf-industry veteran who started Vissla after he left Billabong.
"There are no grandiose plans," Naude said of his new venture. "We hope to create a modern surf company that is focused on the new, youth surf market. The plan is to keep it decent-sized, make good product, surf and do business with the people we want to do business with." Naude's Stokehouse Unlimited also runs women's brand Amuse Society as well as accessories brand D'Blanc.