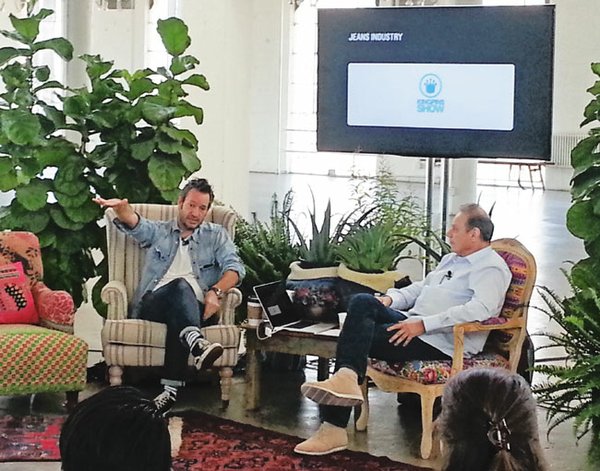 DENIM MASTER CLASS
FIDM Students Get Advice, Inspiration from Some of Denim's Best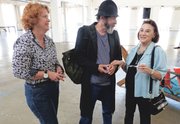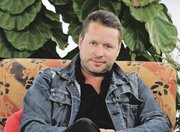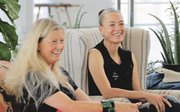 Denim pioneer François Girbaud is credited with a lot of firsts in the industry—from stonewash finishing and industrial washing to stretch denim and new silhouettes such as the baggy jean, the pedal pusher and engineered fit.
It's debatable whether Girbaud was actually the first to wash denim with pumice stones—even he recalls finding telltale powder, possibly from crushed pumice, in the pocket of a pair of Gul & Blå jeans from Sweden in the 1960s. But as the co-founder in 1964 of the Marithe + François Girbaud sportswear brand, Girbaud was at the forefront of denim's evolution from workwear to fashion statement.
"In 1964, we started industrial washing garments," Girbaud said. Unfortunately, the laundry Girbaud used also specialized in washing white sheets, which soaked up the indigo dye as it washed off the jeans. "[The owner] wanted to kill me," Girbaud recalled. "But I made a fortune for him."
These days, the French designer is based in Los Angeles and working for J Brand, the LA-founded label now owned by Japanese fast-fashion chain Uniqlo. And his interest has shifted from finishing denim with stones or sand or chemicals to cleaner alternatives such as ozone and laser finishing.
"When the Berlin Wall fell, all these people came out from the east side wearing acid wash," he said. "I'm responsible for that."
Girbaud made the off-the-cuff comment during Kingpins + FIDM, a recent event organized by Kingpins, the denim development trade show, and the Fashion Institute of Design & Merchandising.
On July 31, about 30 FIDM students gathered on the top floor of the Cooper Design Space in Los Angeles to learn about branding, development and career building from several well-connected names in denim. In addition to Girbaud, speakers included Tim Kaeding, former creative director for 7 For All Mankind and current founder of Mother denim brand; Joie Rucker and Caroline Calvin, designers and founders of Calvin Rucker; and Ben Talley Smith, a denim designer and consultant who has worked with brands such as Alexander Wang, Earnest Sewn, Vince and Marc Jacobs. Later this year he will launch his own denim label, Talley.
The event was moderated by Kingpins founder Andrew Olah, who cited California Fashion Association statistics to underscore the economic impact of denim.
"The jeans business by 2018 will be a $58 billion business," Olah said. "We're talking about 5.8 billion jeans per year. You're talking about 12 billion yards of fabric—using an unlimited amount of energy."
Olah briefly discussed the denim supply chain, from the land used to grow cotton to the global supply of indigo. He discussed the amount of water and chemicals needed to affix indigo to denim yarns and the processes the industry uses to remove the color from the jeans in finishing.
"If indigo were invented today, it would be rejected because indigo hates cellulose fibers," he said. "We have to dye it multiple times, and every time we do that we have to go through multiple processes to help the indigo go into the fiber. And then it goes through industrial processes to take it all out. When looking to the future of the industry, the first thing that comes to me is sustainability."
Olah urged the students to ask where their jeans are made, how they are dyed and how they are finished. And if they don't like the answer, he said, don't buy the brand.
"At the end of the day, every consumer has a right to say no," he said. "Every time you purchase, you say yes."
Inspired by denim
The unique nature of denim was at the heart of the speakers' passion for the jeans business.
Kaeding's first opportunity to work with denim was when he was hired as a freelance designer by The Gap to launch a new luxury childrenswear collection. Kaeding had just shuttered his collection of high-end women's apparel and had never worked with denim before. Fortunately, The Gap had hired a denim expert—Adriano Goldschmied—to work on The Gap's 1969 brand. Goldschmied suggested Kaeding contact Italian denim mill Candiani and Italian finishing company Martelli.
The experience was enlightening, particularly after Kaeding's experience with fabrics that cost $30 to $50 per yard.
"This is this cheap $5 fabric, but it's so amazing," Kaeding said. "You can sculpt it. I'm only going to work in denim."
Smith had a similar experience when he was hired by Tommy Hilfiger to design outerwear, only to find out on his first day that the company had moved him to the denim department.
He was so intent on learning all about denim, he made his own.
"At night in my apartment in Brooklyn I would make my own jeans [and] sand them myself," he said. "It helped me understand denim, from start to finish. Because I was making the pattern myself, if it didn't fit, I knew why."
Smith's denim trajectory took him to Earnest Sewn, Rag & Bone, Rogan and Helmet Lang and gave him the opportunity to develop denim at Sights Denim Systems in Henderson,Ky.
"We would pick fabrics and go down there with a hundred ideas," he said. "We'd come back at the end of the week with new washes, new coatings, new techniques and sanding patterns. It allowed me to showcase what I am good at."
Before launching their brand in 2012, Calvin and Rucker worked for such denim powerhouses as Marithé + François Girbaud, Levi Strauss & Co. and Guess? Inc. The two met at Levi's, where Calvin eventually rose to senior vice president of the Levi's brand, while Rucker went on to found Joie Jeans with Andrew Rosen and Sean Barron and then Rich & Skinny Jeans with Michael Glasser.
Denim design is "a constant exploration," Rucker said. "Every time I design a jean it's a new experience. Denim is one of the hardest things as a designer you can make. It's super challenging, and the technology is always changing. It's really hard to do it well."
Even after a pair of jeans leave the store, it continues to evolve.
"As you wear a jean it takes on a life of its own," Rucker said. "It's almost like a diary of your life."
So many people are involved in the design and development of a pair of jeans, it creates a "community of support," Calvin said.
"That's one of the greatest things about LA," Rucker added. "There's an incredible culture of camaraderie in the jeans industry in Los Angeles. Everybody knows each other. They compete with each other, but they also help each other. They know a year from now they might be working together."
Social media, new technology and the speed of information have changed the way many designers scout for trends and inspiration. Smith said that the time he used to spend shopping the market, he now spends on Instagram.
"[In the past,] we would travel to Europe, and we would see things you wouldn't see at home," Calvin said. "You'd come home with all these samples and wow the merchandisers. Now street style is all around. You can see what's happening in Europe when it happens in Europe. That has created so much pressure on the entire industry. It's already knocked off the second it's out the door."
The event concluded with some advice for the students. Rucker urged the students to never forget to have fun and to be willing to work without set rules.
"If you believe there are rules, you probably won't be able to take anything to the next level," she said.
Kaeding advised the students to learn every aspect of the business.
"You have to know everything," he said. "You have to know how the tape gun works. You have to know the UPS man. When the sewers don't show up, you have to sit down and sew it yourself.
"I have a philosophy at Mother. If you can do something better than I can, you're hired. And I can do a lot of things well."