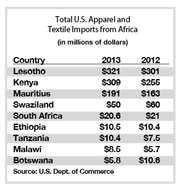 China may be the apparel factory to the world, but one day Africa could be right up there with the powerhouse manufacturer.
Big companies such as VF Corp. and PVH Corp. are eyeing the massive continent as a future site for apparel production that can come back to the United States duty and quota free.
"Africa is prime and ready to go," said Bill McRaith, chief supply-chain officer for PVH Corp., formerly known as Phillips-Van Heusen, whose labels include Tommy Hilfiger and Calvin Klein. The company is making a 20-year commitment to the region with an eye on vertical operations and socially responsible factories.
One of the reasons Africa is becoming popular is because of the African Growth and Opportunity Act, which gives duty-free and quota-free status to apparel made in more than 45 countries in sub-Sahara Africa. That includes just about every country except northern African countries such as Morocco, Algeria, Tunisia, Libya and Egypt.
McRaith has been visiting the continent since 1982 and believes that Africa's trade preferences will boost production in the region for low-cost apparel that doesn't have to be delivered quickly. He calls it the "low and slow" alternative, based on the Southeast Asian model.
Already PVH is producing clothing in Lesotho and Kenya but is eyeing a vertical model in which the company would use African-grown cotton for fabric and then cut and sew apparel. "You hear people saying, 'Where is the next China?' Africa appears to be the next solution for the United States," the PVH executive said.
McRaith, who has been working in apparel sourcing for decades, was speaking on a panel organized by the United States Fashion Industry Association on Aug. 17 at the Sourcing at MAGIC show in Las Vegas. The topic was "Looking Forward: From the Western Hemisphere to Africa: Pros and Cons."
Julie Hughes, the fashion association's president, pointed out that even though China is becoming more expensive, it still provided for 41 percent of all imported apparel into the United States, 35 percent of textiles, 18 percent of yarns and 67 percent of made-ups, which include sheets, towels, bedspreads, aprons and other home-related items. But apparel companies are looking for other sourcing venues as prices and wages rise in China.
Tom Travis, an international customs and trade attorney with Sandler, Travis & Rosenberg, noted that AGOA is the least- used free-trade agreement or preference among the various free-trade accords negotiated by the United States.
The Dominican Republic–Central America Free Trade Agreement is No. 1, and the North American Free Trade Agreement—between Canada, the United States and Mexico—is No. 2. Nevertheless, only 16 percent of apparel and textile importers take advantage of free-trade agreements that can save importers up to 33 percent in duties.
A distinctive advantage in the African trade preference is that fabric can come from any country—including places such as China and South Korea—for apparel manufacturing and still receive duty-free status.
That gives Africa an advantage compared with major apparel-producing countries such as China and Vietnam, whose garments are subject to tariffs.
"The beauty of Africa is low cost," McRaith said. In Ethiopia, minimum wages can be as low as $23 a month. A living wage for apparel workers in Ethiopia hovers around $100 a month in a country where H&M, Tesco and Primark have been producing garments.
Also, landlocked Ethiopia is becoming a favorite sourcing spot because its energy is powered by geothermal and hydroelectric sources that make its electricity prices one-fifth of those in China.
East Africa, which is a popular apparel- making area, is like walking into south China some 30 years ago, said McRaith, who lived in China in the 1990s. He said that, during that period, China had few amenities and not the vertical apparel supply chain it does now. It didn't have button factories, zipper makers or trim suppliers. That all had to be built up, just as it has to be done in Africa. Roads and ports are being built by several government and world organizations. "Africa is for the making and the taking," McRaith said. "There is a duty-free opportunity that has not gotten that much traction."
However, AGOA does expire Sept. 30, 2015, unless Congress renews the trade preference. It has been renewed before since it was enacted in 2000. Attorney Tom Travis believes it will be renewed again because no one is threatened yet by huge apparel and textile imports from that region. "AGOA has faced a sunset before, and it has always prevailed," he noted.
J.C. Mazingue, who is an apparel trade adviser for the U.S. Agency for International Development's Competitiveness and Trade Expansion Program, said that Madagascar, an island off the coast of southeast Africa, was a major apparel exporter to the United States before it lost its AGOA membership in 2009 following a coup d'etat. The former French colony rejoined AGOA after a 2013 presidential election was declared fair and transparent by international monitors.
"Madagascar and Ethiopia," Mazingue said, "have the two largest potentials [for apparel production]."
Travis said he is betting on Benin, Lesotho, Liberia, Mozambique, Rwanda, Madagascar, Senegal, Tanzania and Ethiopia to be the winners in the race to manufacture apparel in Africa.