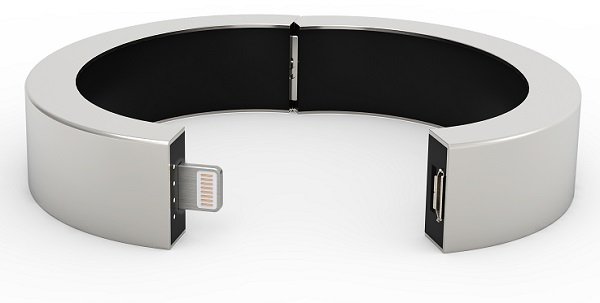 FASHION TECH
Accessories in Charge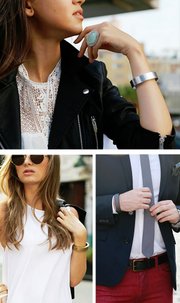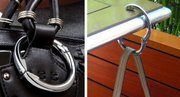 At the recent Las Vegas trade shows, I found myself tethered to the wall outside one of the shows trying to get a tiny bit of a charge on my cellphone to check my messages and make sure I wasn't late for a 5:30 appointment.
My spare battery: dead. My external battery pack: back in the hotel room.
If only I had a bracelet that doubled as a cellphone charger.
That's what the QBracelet is—a lightweight aluminum bracelet with a rechargeable lithium ion battery inside that can store a charge for up to a month and charge a phone up to 60 percent in about an hour.
The QBracelet is not yet on the market, but will sell for $99 (you can pre-order for $79) and comes in several colors: brushed black, matte black, matte silver, polished silver, and polished gold and three sizes. There are two versions, one with an Apple Lightning connector for iPhone 5 and one with a micro-USB for Android and Windows phones. You charge the QBracelet using a micro USB cable and it takes about 90 minutes to fully charge.
Sounds super handy—especially during the crazy trade show season when I have back-to-back appointments and a lot of ground to cover.
Now if they can just find a way to combine the QBracelet with my Clipa purse hook, I would be totally set.