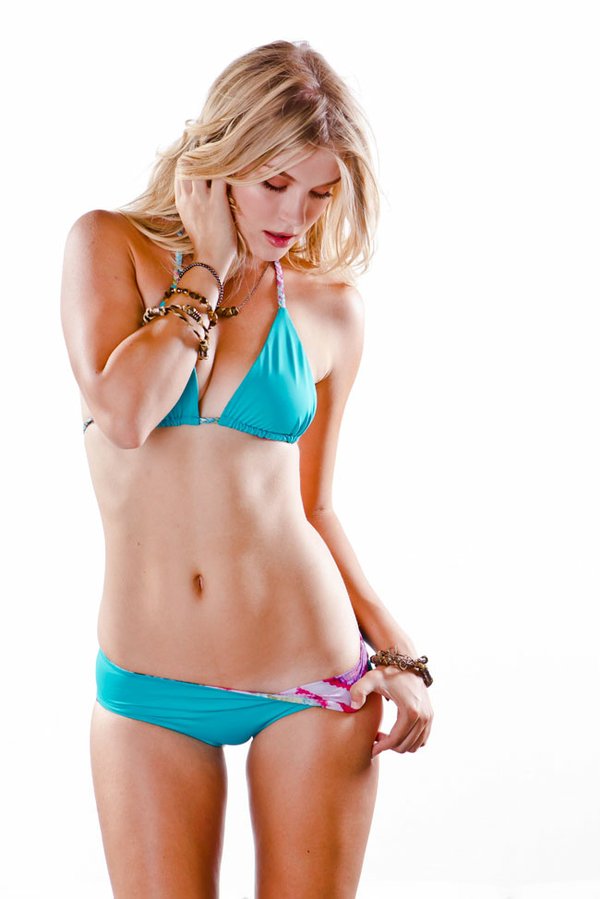 ISLE PONI LO
Run Wild With the Ponies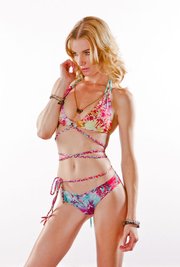 In her first luxury swimwear collection ever designed, Ashley Morgan Foster knew she wanted it to be as ecologically viable as possible.
So she is producing all her swimwear in Los Angeles, using fabrics from a green mill in Italy, and even has recycled-paper hangtags embedded with wildflower seeds to be sewn in your garden. "I wanted it to be eco-friendly and fair trade," said Foster, whose company is based near the ocean in Redondo Beach, Calif.
The public got its first glimpse of the Isle Poni Lo label in July. What they saw were 12 looks from the "Braids of Paradise" collection, which has reversible mix-and-match separates incorporating three Australian artisan prints: Hanalei dragon, abstract orchid and botanical garden. Long braided rainbow ties are a key element in the looks. The fabric is 80 percent polyamide nylon and 20 percent elastane.
There are nine basic styles, which include triangle tops, halter tops, a monokini that is longer for taller torsos, a few skimpy bottoms, a low-rise boardshort and a high-rise bottom.
For several years, Foster lived in Hawaii and then moved to Los Angeles, where she enrolled at The Art Institute of Hollywood (formerly called California Design College), where two years ago got her bachelor's degree in fashion marketing and management. "After 2012, I started working on the swimwear idea," she said. "I put the business plan together. Everything was centered around an eco-friendly, luxury collection that had the island lifestyle with fashion mixed in."
Currently, the swimwear collection is being sold online. Wholesale prices range from $38 to $65.
For more information about the Isle Poni Lo collection, visit www.isleponiloswimwear.com.
RELATED STORIES