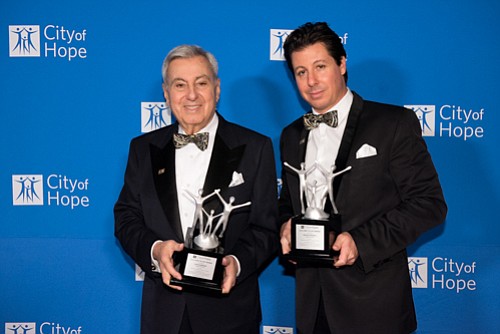 CITY OF HOPE
Honoring Signal Brands' Jack and Jason Rimokh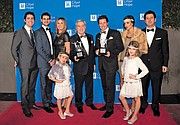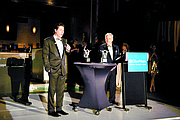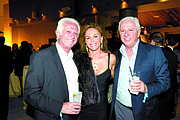 The roof of the W Hotel in Hollywood was transformed into a Roaring '20s bash by Signal Brands' Jack and Jason Rimokh, this year's Spirit of Life Award recipients for the City of Hope's Fashion & Retail Industry Group.
The Nov. 22 event was a "Great Gatsby"–themed gala.
Jack Rimokh is the chairman and chief executive officer of Signal Brands, a handbags, small leather goods, luggage and travel accessories maker with a portfolio of licensed lines, including the global license for Guess handbags. His son, Jason, serves as president of the company.
Before dinner, guests enjoyed '20s-inspired music and themed cocktails such as "The Bee's Knees" and the "Fizzy Flapper" while women dressed as flappers distributed feather fans and long strands of pearls.
Cohn Reznick's Maier Rosenberg introduced the Rimokhs as "two people I admire as individuals, respect as leaders of their company and am proud to call my friends."
Jack Rimokh kept his remarks brief—thanking the group for serving "as valuable partners in supporting the life-saving work of City of Hope."
For Jason Rimokh, the evening was "a wow moment."
"It's easy to write a check that you know is going to a good cause, but to be an honoree has been life changing for me," he said. "I want to thank everyone who contributed. Your money is so well spent. The City of Hope is about empathy and understanding who the patient is and treating them with kindness and compassion. Good enough is not acceptable for these guys. My father and I will be endless supporters of City of Hope."
The event concluded with a special DJ performance by KCRW's Jason Bentley.
The Rimokhs and their guests helped raise $1 million for City of Hope's research and treatment programs. Since 1995, the Fashion & Retail Industry Group has raised more than $40 million for the research and medical center's efforts to cure and prevent cancer, diabetes, HIV/AIDS and other life-threatening diseases.