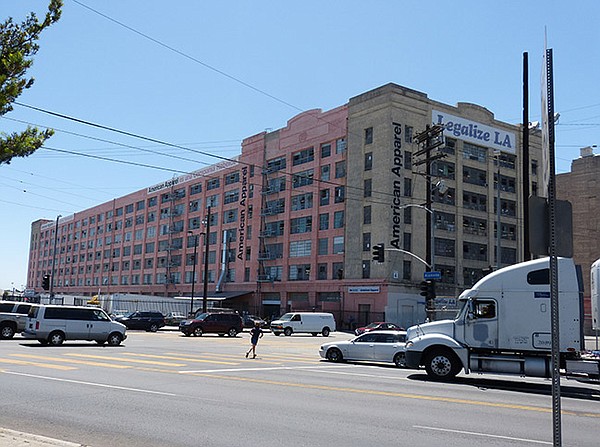 American Apparel Managers Write Letter Urging Board to Keep Charney On After Hiring New CEO
After American Apparel's board announced its decision on Dec. 16 to fire Dov Charney as the clothing company's president and chief
executive, a group of 30 managers and directors wrote a letter saying they wanted the controversial founder to stay on in some capacity.
The board opted to cut its ties with Charney, who was under investigation for alleged misconduct and sexual harassment, and hire apparel veteran Paula
Schneider to take over the top executive spot on Jan. 5.
Charney, who is the company's largest shareholder, has been working as a paid consultant during the investigation, an arrangement that was terminated after
his firing as the head executive.
The managers and directors wrote that they were concerned about the future of the company.
"Some of us have been with American Apparel since its first days in Los Angeles in 1998 and many others for over a decade. When we walk through the
remarkable and unparalleled 'sweatshop-free, vertically integrated' factory in downtown LA and when we consider the global impact the brand has made on
modern culture, we can't help but think about how it came to be," they wrote.
"Each of us can tell countless, sometimes unbelievable stories of how, against all odds, we cobbled things together to help build a completely unique,
globally recognized brand— and the common thread in all of our accounts is Dov Charney. In some stories, he drives us crazy while in others he mentors and
encourages us, but one thing is undisputable—his vision, drive, determination and persistence have been the momentum behind every major progression this
company has made since its inception in 1986. He brings energy, imagination and authenticity that no other single person can possibly come close to, and
it's motivational and inspiring to us all. Plainly put, Dov is what makes this thing tick.
"We were alarmed to learn of the board's decision today to not reintegrate Dov into a leadership role in the company. This decision was made without
consulting even one of us regarding the impact it could have on the company, its employees and shareholders. We are the people in the day-to-day trenches
that know what this company needs in order to reach its immediate and long-term potential and to fulfill its responsibilities to its shareholders.
"We believe the best-case scenario for the future of American Apparel is to put a strong CEO in place that can focus on structure, efficiency and
optimization of the daily operations of the business. The vision of the CEO should be in line with that of the global workforce as well as the shareholders
of American Apparel. Also, the CEO would be a supportive counterpart to Dov, who we feel should lead the creative vision, growth and sales strategy of the
company.
"It's not about the title he has. Rather it's about respecting the hard work that he continues to contribute and allowing the company to benefit from his
strengths. Most importantly, he needs to be in the factory, in the stores and in the trenches with us all. We understand and agree that there is a need for
a constructive and pivotal evolution within the organization.
"We aren't holding onto the past. We are eagerly looking toward the best possible future for this extraordinary company, and we will continue to use our
best judgment to protect and grow the business.
"The turnaround and subsequent success of American Apparel has the opportunity to be a brilliantly triumphant story, and we believe Dov, its visionary
founder, our friend and leader, should be a decisive part of it."
There has been no reaction by the board, which is paving the way for Schneider to move into the top executive spot next year. The seasoned apparel
executive has been at the helm of several Los Angeles companies.
She was the president of the Warnaco Swimwear Group, whose principal label was Speedo, and she was president of Laundry by Shelli Segal.
When The Gores Group purchased Los Angeles juniorswear maker Big Strike Inc. in 2011, the private
investment group gave the top executive position to Schneider, where she remained for almost two years. Since then she has been running Paula Schneider Consulting.
"American Apparel has a unique and incredible story, and it's exciting to become part of such an iconic brand," Schneider said in a statement. "My goal is
to make American Apparel a better company while staying true to its core values of quality and creativity and preserving its sweatshop-free, 'Made in USA'
manufacturing philosophy."
In a press release, American Apparel said Charney was terminated for cause in accordance with the terms of his employment agreement. Most recently, Scott
Brubaker has been working as the clothing maker's interim chief executive. He will continue as chief executive until Schneider takes over in early January.
Brubaker will stay on as a consultant to ensure a smooth transition.
"The company needs a permanent CEO who can bring stability and strong leadership in this time of transition, and we believe Ms. Schneider fits the bill
perfectly," said David Danziger, co-chairman of the board.
Charney, who founded American Apparel in 1998, was suspended as the company's president and chief executive on June 18 for alleged misconduct and
violations of company policy, a company statement said.
Under terms of an agreement signed by Charney on July 9, a special committee appointed by the board oversaw an internal investigation conducted by FTI Consulting. Based on the investigation, the special committee said it decided that it would not be appropriate for Charney to be
reinstated as CEO or as an officer of the company.
For years, American Apparel has been losing money, with net losses totaling nearly $300 million in five years.
For the first nine months of the fiscal year ending Sept. 30, net sales were $455.4 million with net losses totaling $40.8 million.
The company is the largest apparel factory in the United States, employing more than 3,000 workers at its downtown location. With 245 retail stores, it
employs a total of 10,000 people in 20 countries.