RETAIL
2014 Retrospective: Retail Sales: Target, Macy's Navigate Tough Year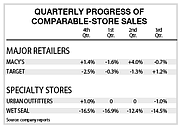 As 2014 came to a close, Target Corp. was still dealing with the massive data breach of 2013 and taking steps to bring back the Minneapolis-headquartered company's cheap chic glory days of the 1990s.
On Dec. 15, 2013, Target announced that personal data such as payment-card information from 70 million of its customers had been stolen by hackers. In May 2014, Gregg Steinhafel, the ailing retailer's chief executive officer, was pushed out of his leadership role. Target's board was not only angered about the big-box retailer being caught flat-footed after the data breach, but they also were alarmed by the retailer's debut in Canada, which was deemed to be poorly executed.
Steinhafel was replaced by Brian Cornell, a Pepsi Co. executive. Since then, Target has hired more executives to develop and protect its online world. One of the new executives is Jacqueline Hourigan Rice, who was hired in November as senior vice president, chief risk and compliance officer to lead the company's efforts in developing its online ethics, compliance and data privacy.
On Dec. 17, it was announced that Casey Carl, president, omnichannel and senior vice president, strategy, will assume the role of chief strategy and innovation officer. His team will include Paritosh Desai, who will serve in the new job of senior vice president, enterprise data, analytics and business intelligence.
Target also said that it would pilot a new retail concept. In September, it announced Target Express, 19,000-square-foot small-format stores, which are 14 percent smaller than typical Target stores. Some of the new stores are scheduled to open in the San Francisco Bay Area. Another is scheduled to open in the San Diego area in 2015.
For its most recent third-quarter financial report, which was reported Nov. 19, same-store sales increased by 1.2 percent, which was better than forecast. Comparable-store sales reflect digital sales growth of more than 30 percent in the third quarter, according to a Target statement.
2014 was a year of growth and innovation for Macy's Inc. In September, it announced that it was going to support new digital payment platforms such as Apple Pay and also pilot same-day-delivery programs.
Also in September, the retail giant announced that it would hire 86,000 seasonal workers, 3.6 percent more than the holiday season the previous year. But in its last financial release, the third quarter of its 2014 year, Terry J. Lundgren, Macy's chairman and chief executive officer, reported that same-store sales declined 0.7 percent for the quarter and that it would slightly revise the forecast for its 2014 earnings. Lundgren said, however, that he was bullish about Macy's fourth quarter.