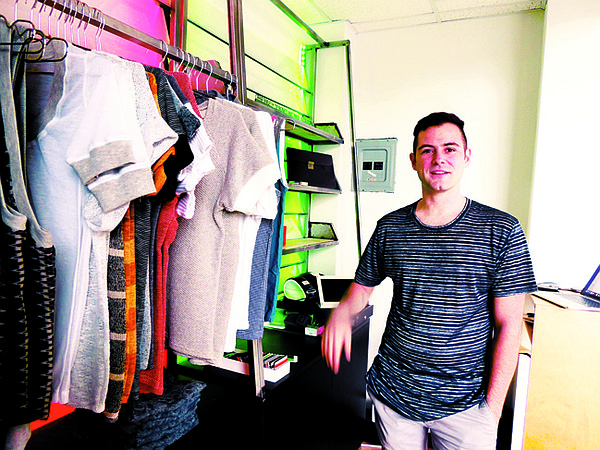 LAEX
Tiniest Flagship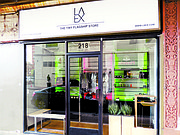 Flagship stores are supposed to be big—emporiums that can stretch across the ground floor of a giant hotel or a city block—but Alexander Khater, owner/creative director of the 2-year-old downtown Los Angeles brand LAEX, planned to turn conventional wisdom on its head with the first LAEX flagship, which opened Dec. 8 at 218 W. Eighth St., on the corner of Broadway, in downtown Los Angeles.
It's 60 square feet. Others would have passed it by, but the space presented an irresistible challenge to Khater, who worked as a visual designer for Emporio Armani in Milan from 2008 to 2009. "It's a window display, but it's a store," he said of the unique space, which he characterized with the Twitter hashtag #cantgetanysmaller.
At the tiny flagship, he sells tops from his LAEX brand. He also sells accessories that he designs, such as plastic cardholders, and leather bags. Since the space is reminiscent of a newsstand, he plans to offer magazines at the space eventually.
Khater designs items for LAEX at a workshop a couple of blocks away. But as downtown Los Angeles becomes more of a fashion neighborhood, he thought it would be a good idea to attract more eyeballs to his brand. LAEX is down the street from the recently opened flagship for the Skingraft label and a less than 5-minute walk from the Ace Hotel and the hub of high-end boutiques that opened around it.
Khater wholesales his tops from $25 to $50. They are designed for Los Angeles—casual but fashion forward, he said. They hang on a bar in the mid-section of the store, which Khater designed. The flooring is plywood. There is custom-made shelving and Plexiglas shades that cover LED lights, which change color.
LAEX is one of several tiny spaces on the 200 block of West Eighth Street. One is the Farago art gallery. Another is Artesana, a store devoted to a new take on traditional Mexican popsicles, called paletas. Khater said in the 1930s these spaces served as street-front cafes. Eventually, Khater hopes to open more newsstand-style boutiques. "We want to build a cult following," he said of LAEX. "It can only happen organically."