As of Friday, January 23, 2015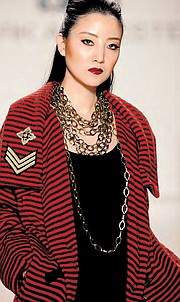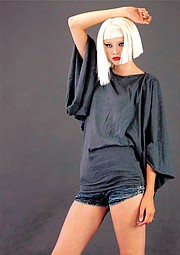 Music has been at the heart of the Mark and Estel brand since it was launched in 2005 by Mark Tango and Estel Day.
"The 'Swing T' came from a [track entitled] 'Love Song' that Mark and I [composed]," Day said. "Within a month, trend magazines were writing about the tee."
The Malibu, Calif.–based line's signature soft tees proved to be a hit among musicians, and their specialty cutout, ripped leggings were worn by songstresses Lady Gaga and Gwen Stefani. Early on, Mary-Kate Olsen, style icon and fashion designer of The Row, began wearing their designs.
With 12 seasons under its belt, the company has evolved to include a wider range of options in style and size. For Spring/Summer 2014, Tango and Day introduced the expanded line at Mercedes-Benz Fashion Week with new ready-to-wear pieces including sheer off-the-shoulder tops, intricate braided knit dresses, hooded capes and tie-dye bell-bottoms. For their Spring/Summer 2015 show, the designers returned toNew York Fashion Week with the expanded Mark and Estel brand as well as the original T-shirts and dresses, which have been renamed M&E Knits.
M&E Knits is a reinvention of staple silhouettes in 100 percent cotton fabrications as well as some stretch lace. The 200-piece collection retains some elements from Mark and Estel but adds new loose fits to the collection. Wholesale prices start at $49 and go up to $400. M&E Knits are currently sold in more than 300 retail locations in the U.S. and internationally, including in Japan, Germany, Great Britain, France, Spain, parts of Asia, the Middle East and Latin America.
The M&E ready-to-wear collection was inspired by their new single track, "Malibu Anthem."
Recent additions to the collection are casual pieces made from athletic and casual fabrics such as jersey, fleece and denim treated to mimic the appearance of silk, chiffon, leather, wool and metal. Wholesale price points can go up to $1,500 but average around $100.
The rocker-chic-meets-everyday-casual collection features three-piece suits, two-piece outfits, oversized dresses, kimonos, sweaters, blazers, bottoms and bustier gowns with trains.
"The purpose is to make a fit that women love and feel comfortable in. If you can wear a three-piece suit made out of sweats and still look [sharp], why not?" Day said.
In Los Angeles, this season's ready-to-wear line is currently exclusively sold at Madison on Robertson, where Tango and Day have created a special installation in the store window.
Both the Mark and Estel and the M&E Knits collections are made in Los Angeles, which makes it easy to fill reorders and honor special requests. In fact, Tango and Day will remake any style from a past collection for a retailer and for individual orders, as well as produce pieces in any size requested for a custom fit. "We can do one piece at a time for reorders or we can do an entire wholesale order of many styles for a store. In other words, we have no minimums," Day said.
The designers said they believe every woman—in any size—should have the ability to wear what makes her feel good. "Since we source and produce in Los Angeles, we are able to tailor our garments to fit our customers, regardless of size," Tango said. "We have a wide range of clients, from teens to adults, so we always keep them in mind and want to make clothing so anyone could wear it."
For more information, email markandestel@markandestel.com.