As of Friday, December 19, 2014
L.A. foodies have been salivating over the debut of Chef Brett Thompson's newest restaurant Pez Cantina for about a year. Now it's open.
This mix of Mexican street food and L.A. culinary savior faire had a soft opening on Dec. 18, and it has a L.A. fashion district edge.
A partner in the restaurant is Israel Ramirez, chief of the Siblings Showroom at the Cooper Design Space in the Fashion District. He's also Thompson's brother-in-law. The restaurant's co-owner is Lucy Thompson, who founded Siblings in 2007.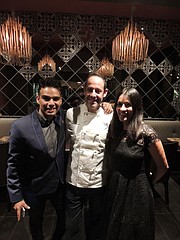 During the soft opening, the Ramirez and Thompson family, L.A. City Hall politicos and friends feasted on La Adelita cocktails (Pez's version of the mojito) as well as shrimp ceviche, deep fried beef cheek taquito and Pez's signature Baja fish taco. Israel recounted why the Ramirez-Thompson bunch wanted to try Pez, which also is billed as high-end Mexican seafood. After Thompson's success with Fashion District eatery Market, and Milk, a milkshake mecca (love that metaphor!) He wanted to try his hand at recipes from the Ramirez's kitchen, which were rooted in the Mexican state of Guanajuato and other Mexican regions.
Bret had a headstart in making a unique statement. Martha, the Ramirez matriarch, did a lot of her own experimenting with Guanajuato recipes, including making Pozole Verde, a green chile riff off of what is a typically red sauce.
If the Ramirez Thompson family knows food and fashion, they also know real estate. Pez Cantina is located at 401 S. Grand Ave. in downtown Los Angeles, a two minute walk from the upcoming Broad Museum, another highly anticipated cultural spot, this one a shrine to the art collection of Eli Broad, philanthropist and influential businessman , which is slated to open in Fall 2015. Grand also is home to Disney Hall, MOCA Grand Avenue, and a collection personality-free office towers filled with armies of hungry accountants and lawyers. Between the office workers and the culture tourists, Israel forecast that there was a crying need for a restaurant on Grand.
"Nothing has ever been done here," Ramirez said. "Everyone built restaurants in the Arts district."