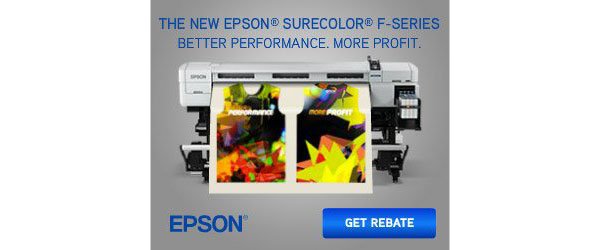 SPONSOR BLOG
Epson® Quality and Reliability, Now in a Dye-Sublimation Printer
The Epson name has long stood for the very highest standards of print performance, quality and reliability. Now, we're putting our expertise into an exciting new suite of purpose-built garment printers. Designed exclusively for dye-sublimation transfer printing with specially-formulated Epson inks, the all-new SureColor® F6070-44 and F7070-64 deliver superior print quality along with the world-class service you've come to expect from Epson.
How do you reinvent the dye-sublimation transfer printer? You start by designing, from the ground up, every component to work together as one system — from the print head and ink technology to the printer engine and software. The result? A high-performance dye-sublimation transfer printer designed with extreme reliability for true industrial-level production. Developed using the latest advancements in performance imaging, this innovative system includes our exclusive MicroPiezo® TFP® print head, along with an all-new dye-sublimation ink technology — Epson UltraChrome® DS.
Thanks to all of these carefully designed elements, you'll enjoy outstanding everyday production speeds, high image quality on even the most quality-focused garments, and so much more.
The new Epson SureColor F-Series. Better performance. More profit.