FASHION NEWS
Industry Voices: California Fashion Association: Measuring the True Scope of L.A.'s Creative Economy
The latest "Otis Report on the Creative Economy of the Los Angeles Region," released Feb. 6 by Otis College of Art and Design, is certainly well intended. However, it shows an inaccurate picture of the California fashion industry and conflicts with other analyses and reports currently in release.
Fashion is rightly recognized as the third-largest payroll industry. However, a pie chart shows "digital media" people earning $160,000 a year compared with "fashion" making $40,000 a year. One problem is that there are only 5,000 to 6,000 digital-media people compared with 200,000 in fashion. The importance should be put on the payroll weights in the overall regional economy. In a region of 20 million people, 200,000 people aligned to a single industry is a real contribution number; 5,000 is not.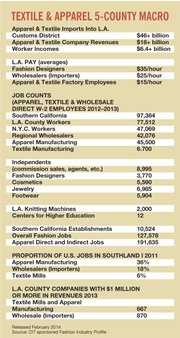 Another problem is that the data in the Otis report were collected from a very narrow selection of industry workers rather than from a full spectrum of businesses and jobs that make up the totality of the industry. California State Sen. Ted Lieu (D–Torrance) is quoted as saying, "California does not need to create jobs for workers on T-shirts and cheap apparel." Looking at the data in this report, the legislators will see our industry as a low-wage industry that has a negative impact on our economy.
Mr. Lieu, we need to employ all the working people in California. You may not "need" the people who make T-shirts working in California; however, the people who manufacture and add value to a basic T-shirt by printing, stitching, embroidering, etc., certainly want the people who can sew a T-shirt. It is still a job for someone who needs it and a step up the career ladder in an industry that gives opportunity to all, only requiring hard work and dedication.
What this kind of misinformation leads to is legislative policy decisions made by those who react only to what is on the printed page and not the facts. There needs to be clarity when gathering information on such a diverse industry.
The Otis report applies a Manufacturing Industry Code Weighted jobs analysis to a labor market in an industry (fashion) that has multiple production, marketing, design and sales development entities.
California's law AB 633 requires that everyone who "touches" apparel must be registered with the Division of Labor Standards Enforcement. That includes garment and textile printers, label makers, design and pattern-making studios, third-party distributors for apparel importers and e-commerce sites, retailers with design studios, private-label manufacturers (Forever 21, Target, Nasty Gal, Kohl's), and finishing companies (Security, Todd Rutkin, Geltman, etc.). All of these categories and companies are registered with the DLSE as "Apparel Industry" and yet they are not counted in the employment numbers or salary data contained in this report.
Other missing categories include independent designers, predictive design services, textile print studios, commission sales representative offices for textiles and apparel, specific tech-supply companies (AIMS, NGC, Paragon, Polygon, etc.), label companies (Avery Dennison, California Label, Progressive, etc.), as well as the advertising agencies, PR firms and social-media marketing groups dedicated to apparel-manufacturing brands.
There are more than a dozen institutions of higher learning in California that have fashion as their curriculum focus. The data in this report would indicate that all of these students are looking toward an industry with an average income of less than $40,000 per year.According to the 24/Seven executive search firm, "The median fashion salary at U.S. companies surveyed was $68,000." In Los Angeles, specifically, here are a few sample titles and their 2013 salaries:
Creative Director: $152,143
Design Director: $125,111
EVP Sourcing: $172,000
VP Merchandising: $186,250
E-Commerce Manager: $107,929
VP Supply Chain: $211,944
In the accompanying "Fast Facts" sidebar, comparative data show quite a different story.
Ilse Metchek is the president of the California Fashion Association. More details about the CFA's response to the Otis report can be found at www.calfashion.org.