As of Friday, February 14, 2014
Photo Gallery
FIDM Celebrates Film Fashion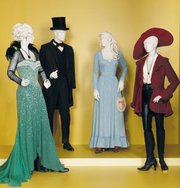 The Fashion Institute of Design & Merchandising kicked off its 22nd annual Art of Motion Picture Costume Design Exhibition with a Feb. 8 grand-opening party at the FIDM Museum & Galleries, which drew a mix of fashion designers, costume designers and fashion fans.
Among the party guests were costume designers Trish Summerville and Mona May, as well as designers Michael Wilkinson, Estevan Ramos, Nick Verreos and David Paul.
This year's exhibition features the work of all five Academy Award nominees for best costume design: "American Hustle" (Wilkinson), "The Invisible Woman" (Michael O'Connor), "12 Years a Slave" (Patricia Norris), "The Great Gatsby"(Catherine Martin) and "Grand Master" (William Chang Suk Ping).
Several costumes in the exhibition were designed by FIDM alumni, including "The Hunger Games: Catching Fire," designed by Summerville, and "Hansel & Gretel: Witch Hunters" and "Oblivion," both designed by Marlene Stewart.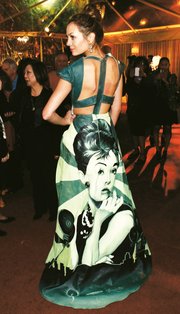 There are several science-fiction film costumes represented, including "After Earth" (Amy Westcott), "Ender's Game" (Christine Bieselin Clark), "Thor: The Dark World" (Wendy Partridge), "Pacific Rim" (Kate Hawley), "Star Trek: Into Darkness" (Michael Kaplan) and "Man of Steel" (James Acheson).
There were also costumes inspired by historical events—including "42" (Caroline Harris), "Saving Mr. Banks" (Daniel Orlandi) and "Lee Daniels' The Butler" (Ruth E. Carter)—as well as last year's Academy Award winner for best costume design, "Anna Karenina," designed by Jacqueline Durran.
The exhibition opened to the public on Feb. 11 and runs through April 26.