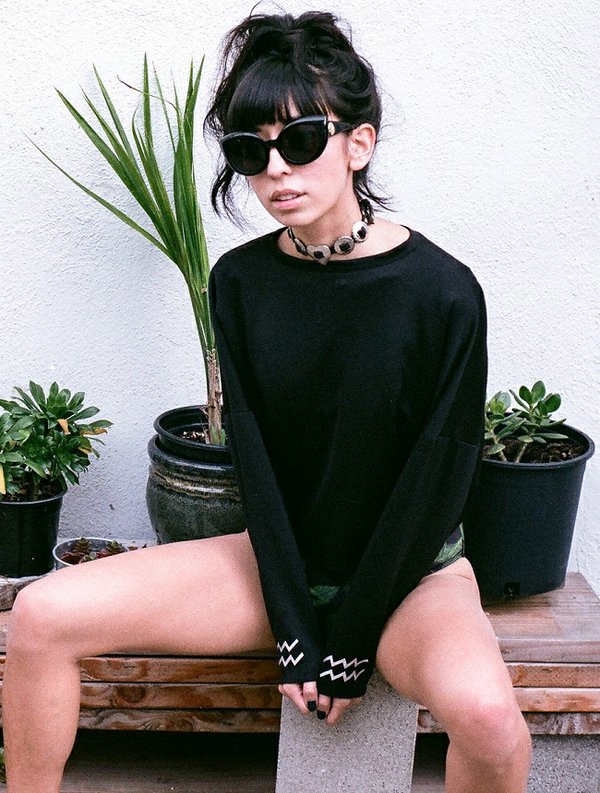 MADE IN AMERICA
Ruhi: On-Trend and Quick-Turn
Retailer-turned-designer Silke Labson found success with her first collection, Shown to Scale, when her best-selling "Bundy" dress was picked up by e-commerce site Nasty Gal. Labson relocated her business from New York to Los Angeles to be able to easily produce her latest project, Ruhi, a collection of women's separates and unisex tees and sweatshirts in the United States. "I have been producing in China for Shown to Scale, and I really wanted to learn about the garment industry in Los Angeles and move production close to my new home here," she said.
Ruhi debuted at the January Agenda WMNS show with a comfortable, athletic-inspired leisure look that also can be dressed up. There are white crop tops, cobalt boxer leggings, black skirts, and trippy printed tanks and tees with phrases such as "Almost Stoked." There are leggings with cutouts and wavy patchwork along the side of drawstring running shorts, as well as an oversized letterman jacket with white leather sleeves.
In addition to producing locally, Labson sources all her fabrics in Los Angeles. The collection features 100 percent cotton for knits, and everything is custom-dyed. "I literally drive the samples to the screeners and work with them to make sure I get the right holographic foil and placement on everything," she said. "The tanks are cut and sewn and take about five revisions to get it right. We dye multiple times to get the correct standard 'tan' color I want to use."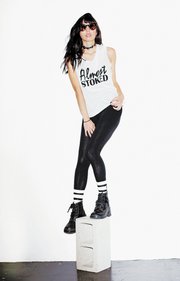 For the sportswear styles, she uses a soft and stretchy poly/Lycra-blend fabric that is commonly used for yogawear. "My first jacket, I used PU leather for the arms, and I will most likely only use PU leather in order to keep my price points retailing under $150," she said. Labson prefers quick-turn deliveries to long lead times. "I don't see Ruhi as being a line that needs to be sold six to eight months in advance," she said. "I want to be able to pick up on trends and pick designs I made that fit and sell them right then. I'm not making collections that are on a runway or need to be seen as a full collection. My collections will be sold and ship 30 to 60 days out." First deliveries are scheduled for March; retail prices range from $28 to $150. Some of the styles have already been posted as teasers on Labson's Instagram account (@Ruhiclothing).
"I don't have a specific genre I go for since my taste changes with time and I also take into consideration ongoing trends," she said. "The wrong graphic and the wrong time mean no sales. I can always keep that one graphic on the back burner since trends move faster than ever these days and you never know when you might want to use it."
Labson got her start in the industry working in merchandising for retailers such as Betsey Johnson and Marc Jacobs. She eventually opened up her own vintage clothing store in Brooklyn, N.Y., where she launched Shown to Scale as an in-house line. When she started, Labson said, she did not even know the difference between wovens and knits but was soon producing large quantities of dresses.
"Nasty Gal was my first account and my favorite online store, so that was amazing—but [it was] a huge change from the 30 pieces I was making for my store at the time," Labson said. "I had to pick up fabric rolls and bring them on the train and then carry them blocks to the factories in snow, rain, heat or whatever New York threw my way. I always looked like a crazy person with my hair in a mess and sweating or drenched in rain with bags all over the fabric."
Labson became a one-woman show, studying "massive" vendor guides, folding, poly bagging and labeling everything by hand. "It was crazy," Labson said. Shown to Scale officially launched at the WWDMAGIC show in August 2012, where Labson opened 30 nationwide accounts. "It was pretty intense, being thrown into [the industry], but it forced me to learn quickly. I had to learn how to run, produce and ship a wholesale line in about two months," she said.
Since relocating to Los Angeles, Labson has scaled back Shown to Scale to capsule collections and collaborations so she can focus on Ruhi. "I love everything I work on, so it's hard to say no to cool projects," she said.
For sales information, contact silke@ruhiclothing.com.