RETAIL
Gap Inc. Unveils Its New Spring Look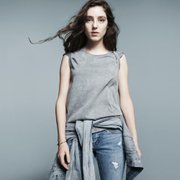 Gap's new creative director Rebekka Bay has gone back to the retailer's iconic looks as the San Francisco hits the advertising season for its Spring 2014 collection.
She definitely believes that khakis, denim and T-shirts are the way to go.
This is her first collection and she is banking on the well-worn, lived-in look to be a strong selling point among those who have learned to go to the Gap for its wide selection of blue jeans and casual looks.
The Spring collection has a new washed-down color palette and fabrics that look and feel like they've been owned for a very long time.
Strong sellers for Spring are expected to be broken-in straight and the boyfriend roll-up short bottoms.