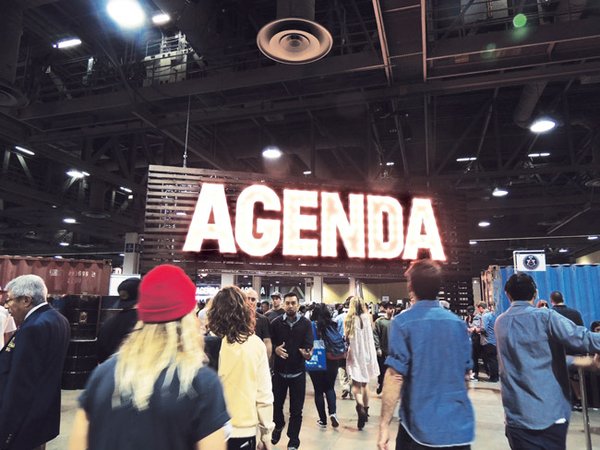 AGENDA TRADE SHOW
Agenda Buzzes with Heavy Retail Traffic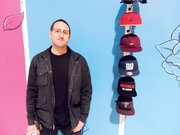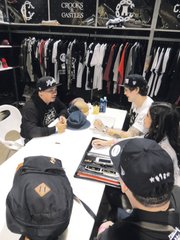 Agenda, the first trade show of the year, started on a robust note. More than 700 brands exhibited during the show's Jan. 7–8 run at the Long Beach Convention Center in Long Beach, Calif., where most vendors said that they were busy with appointments throughout the show.
Across the sprawling convention center, established action sports and streetwear brands such as Vans, Volcom, Billabong and Obey vied for attention with new brands such as Vissla, recently launched by former Billabong chief Paul Naude, along with emerging brands such as Publish, SLVDR, Cobra Lord and HippyTree.
The menswear-dominated show also made room for women's fashions. After taking a bow at Agenda's Long Beach show last July, AgendaWMNS solidified its gains by having more women's fashion brands—over 50 exhibiting, compared with its debut of 30, said Vanessa Chiu, Agenda's director of women's sales and marketing.
The crowded show floor could have been a metaphor for a crowded trade show calendar. After Agenda closed on Jan. 7, many of the vendors flew to Orlando, Fla., to exhibit at the Jan. 9–11 run of Surf Expo.
It was a challenge for companies showing at both shows. "It's a nightmare," Joel Cooper, chief executive officer of Lost Enterprises, said of preparing for the frenetic show calendar. Many vendors were forced to produce more samples to satisfy the needs of both shows and also build separate booths for each show.
Still, Cooper was pleased with Agenda's attendance. With two big shows competing for a busy market's attention during the same week, he had expected fewer retailers and vendors. "If this show is this big so early in the year, it shows that Agenda is picking up great momentum," Cooper said.
Aaron Levant, the founder of Agenda, said that he realized that there was frustration with the show dates. He tried to negotiate with other trade shows at the Long Beach Convention Center to switch dates, but no one wanted to change their calendars. He said convention-center management schedules show dates three years in advance. January also happens to be one of the busiest months in the trade-show season, with popular events such as the Consumer Electronics Show, Snow Sports Industries America and Outdoor Retailer also vying for exhibitors' and buyers' attention. "No matter when you put on a show, you are stepping on someone else's toes," he said.
While the recent show's vendor base grew slightly compared with the July show, Levant did not want to pack more booths into the show or leave the Long Beach Convention Center because the show would lose a quality that makes it unique. "There is an intimacy and a personal connection at Agenda. If you put it on a larger scale, you can't make that personal connection," he said.
Retailers from every state except South Dakota, as well as buyers from 48 foreign countries, shopped the show, Levant said. These included Pacific Sunwear, Sun Diego, Jack's Surf, Kitson, Diane's Beachwear, Spyder Surf and DTLR.
Vendors working the show said business was good. Emil Soriano, design director of the Crooks & Castles brand, forecast a slight increase in his brand's business—5 percent over the January 2013 Agenda. He said he believes retailers' business has been improving and buyers wanted to see what was new in 2014.
Eme Mizioch of the TeeInk brand exhibited at Agenda and said most buyers were interested in taking notes. "You get follow-up—but only weeks later." Of those who were ordering, 60 percent requested Immediates, or merchandise with delivery dates much earlier than the seven months out for the Fall fashions that many vendors were showing.
Greg Garrett, co-owner of Z Supply Inc., producer of Black Swan and Others Follow, said many retailers prefer to order Immediates, but business must be solid. "They're buying. They reorder all of the time," he said.
However, the Agenda show followed a Christmas retail season characterized by only modest business. In a Jan. 8 research note, Wall Street analyst Adrienne Tennant of Janney Capital Markets described the season's business as being marked by a malaise that would continue. "We believe the consumer malaise experienced in holiday will continue into [the first quarter,]" she wrote, forecasting that retailers will lower their earnings guidance the first quarter.
Core skate and surf shops were part of the mainstream of retailers during 2013, as they reported solid sales through most of 2013, said Cary Allington of market-research company Action Watch. Its index of private retailers posted sales increases of 1 percent from January to November of 2013 compared with the same period the previous year. However, apparel sales increased nearly 3 percent during that time, and the women's apparel category was responsible for much of the increase.
Fraser Ross of prominent boutique chain Kitson shopped Agenda and said Christmas sales were great although the season was marked by a big rush in the five days before Christmas. Streetwear is growing in importance, said Ross, whose merchandise mix is influenced by what celebrities wear. "Streetwear makes you look more current. All of the social-media celebrities are wearing it," he said.
Fall 2014 street fashion trends included continued interest in chino pants and workwear. For prominent companies such as Vans, it meant less denim on the trade show floor. "The denim business has plateaued," said Daniel Hernandez, Vans men's apparel merchandiser. "Chinos and workwear pants have been driving the business."
Showing off stylish socks and shoes is important to streetwear acolytes, so many vendors have offered jogger-style work pants, with ankles tapered off and cut like sweat pants, said Amy Beams, design director of the Ambig label.
Adam Derry of brand-development company ADBD said long-sleeve T-shirts seemed to be enjoying a revival and prints were getting brighter. "There is a distinct effort toward vibrant colors, collage patterns and color blocking, a nod toward the evolution away from the minimalist black-and-white looks of past seasons," he said.