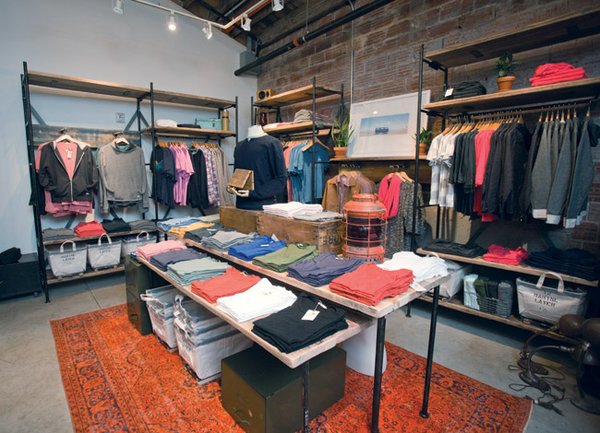 MARINE LAYER
Marine Layer: Specialty Fabrics, Specialized Fits
After a few years working finance jobs, Michael Natenshon switched careers and revved up what may be a new wave in T-shirts.
Natenshon, a novice clothier and the chief executive officer of San Francisco–based Marine Layer Inc., started making T-shirts with a proprietary blend of Pima cotton and Modal fabric. "It was not something people were doing in menswear," Natenshon said of his fabric. "It feels like cotton but softer."
After more than a year trying to find the right blend, in December 2009, he sold his shirts out of his San Francisco apartment. Fast forward a few years, and he currently runs five Marine Layer boutiques on prominent retail streets such as Abbot Kinney Boulevard in Los Angeles, which opened in October. The company also runs two branded shops in San Francisco; one in Palo Alto, Calif.; and another in Portland, Ore.
Natenshon plans to forego wholesaling his brand and focus on building more Marine Layer boutiques in America. There's a good chance that a lot more people will be receptive to his pitch for T-shirts with a unique fabrication, said T-shirt guru Isaac Nichelson of Los Angeles–area manufacturing consultancy Sustainable Source Studios.
"There is so little differentiation in T-shirts," Nichelson said. "We're just starting to see this trend of emerging, specialty high-end tees, made from alternative fiber blends, things other than cotton and poly." Sustainable Source Studios maintains an emphasis on alternative fiber blends such as hemp.
Marine Layer also hopes to build a point of difference in T-shirt sizing. Instead of conventional T-shirt sizing of small, medium and large, the basics label is the champion of in-between sizing. Marine Layer sizes are small, medium, "marge" (the half size between medium and large), large and "larger."
"Mediums never fit right," Natenshon said of his own clothes-shopping experiences. "Larges were too big, but in jackets you had a lot more size options."
Getting the right sizes and the right texture in the fabric took a lot of trial and error, Natenshon said.
It started in 2009 when Natenshon, a University of California, Berkeley, business school graduate, decided a career in finance was not for him.
"It was a mutual parting of ways," he joked about leaving finance. "No one shed a tear."
But he was intrigued about making T-shirts. He started cold calling Los Angeles–area knitting mills. The mills showed him thousands of yarn blends, but he kept rejecting different blends. "I knew exactly what I wanted," he said. "It would feel and look a certain way."
While three designers work for Marine Layer now, Natenshon designed the first shirt himself, then relied on dozens of sewers to create the right fit.
Getting the right fit took a while. One of his first runs of shirts came in an inch too short. Another run delivered shirts that were too long. He was maxing out his credit cards with his development. "If we had made 2,000 shirts in the first round, I wouldn't be around," Natenshon said. He made only 50 and sold most of them out of his apartment. In 2009, he came across a silhouette that offered a slender fit. He sold it to his friends, and the shirts sold out in a day. He knew he had a business.
He currently works with more than 35 different vendors to make the men's and women's fashions sold at his stores. T-shirts are manufactured in the Los Angeles area. For woven shirts, he works with manufacturers in the San Francisco Bay Area. He estimates that it costs 25 percent to 35 percent more to manufacture in California, but his customers prefer it.
"We could be cheaper overseas. We've been able to find good vendors, and our customers value that things are made in the States. We do charge a little more. We have a better product. People will pay for it."