SHOWROOM PROFILE
T&A Showroom
T&A Showroom
California Market Center, Suite B486 and Suite B588
(310) 497-3851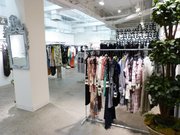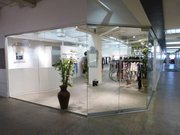 Tim Padilla and Alfred Davis opened their T&A Showroom more than five years ago in the 824 Building, the wholesale building located just north of the intersection of Ninth and Los Angeles in the Los Angeles Fashion District. Over the years, the showroom at the 824 expanded from one 800-square-foot space to two showrooms, housing men's and women's collections, and the business expanded to include a New York showroom, as well.
This year, the West Coast showroom moved to a pair of showrooms on the fourth and fifth floors of the California Market Center. Both opened in time for the Jan. 12–15 run of Los Angeles Fashion Market. T&A's contemporary menswear and premium streetwear collections are housed in a 3,500-square-foot space in suite B486 in the CMC's Area 4 section. Women's contemporary and young contemporary lines are in a 1,400-square-foot space in suite B588.
"We were enticed with how competitive a package the building was able to put together for us," Padilla said. "We were really able to latch on the aspirations of what the shared dream is in terms of building the [Area 4] section."
Padilla also praised the CMC's amenities. "Who else can boast a sushi bar, Italian restaurant, four banks, a dentist [and a] dry cleaner?" he said.
T&A offers a broad mix of men's and women's merchandise carried by retailers ranging from Nordstrom, Bloomingdale's, Neiman Marcus and Fred Segal to Hot Topic and Urban Outfitters.
"If one segment of the market tapers off, typically another segment of the market is experiencing growth," Padilla said. "Our diversity allows us to capture these revenue streams."
The showroom's women's lines include Dear Creatures, Eight to Four, Eve Gravel, FOMI, Paolo Hernadez Sombrio and Miho. Men's offerings include Alkemy, Alpha Industries, Barque NYC, Carapace, Color Siete, Control Selector, Eight to Four, Fontaine, Munguia, Paola Hernandez, Ravado, Rose Pistol, Sombrio, T.K. Garment Supply and Vlado footwear.
The international mix includes collections from Italy (Blomor), Japan (T.K. Garment Supply), Canada (Eve Gravel) and Colombia (Color Siete and Rose Pistol) as well as U.S. brands (Alpha Industries). Wholesale prices range from $20 to $600 and up.
"Our intention in establishing such a diverse range of collections is so we can truly utilize all the different relationships we have been able to develop throughout the years," Padilla said.
Another draw for the Padilla and Davis to move was the opportunity to continue to host parties and events in their showrooms.
"The building seemed quite open and amiable in supporting our fashion [and] industry events, which is an aspect of our business we are happy to bring on board," Padilla said. "[We] really feel that it can be integral and instrumental in bringing that common dream [and] vision to fruition. We're here to help unstuff the building a bit and help people see the true potential."