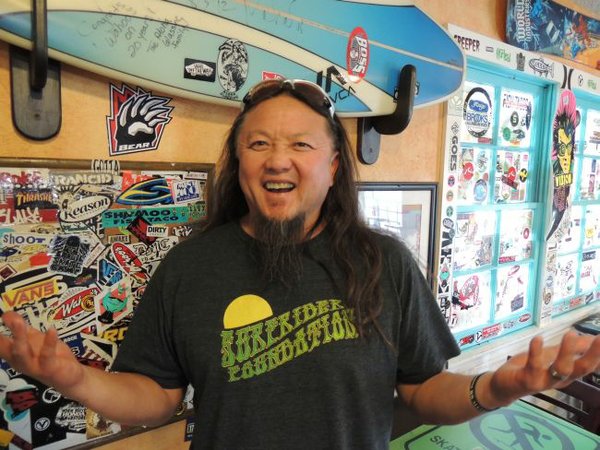 Wahoo's Fish Taco on History: Stick It!
Wahoo's Fish Taco is one of the surf industry's favorite places to chow down, the taqueria caters more than 200 surf and skate events each year, said co-owner Wing Lam.
All of the eating, visits from surf luminaries such as Kelly Slater, and inspired partying literally left its mark. Get this, you can witness a 25-year history of the surf industry on the walls of the first Wahoo's restaurant, located at 1862 Placentia Ave. in Costa Mesa. The wall is basically a museum of stickers from a quarter century of surf brands.
Sure, you'll see stickers of some brands that are still prominent. Think, RVCA and Stussy.
but there's also stickers for long gone brands such as Bronze Age, Maneaters! and Bio Tribe. There are tons of these stickers. Just looking at some of these bygone brands are as entertaining as videos of surfing competitions played on the eatery's TV monitors.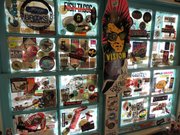 Lam started the trend when he first slapped stickers on the walls of his place during some rare down time when he first opened in1988. Since the Costa Mesa shop is located in the middle of a light industrial neighborhood populated with surf brands, some of the surf kids asked if they could place their stickers on the wall. An interior design look was born.
In early 1989, Lam catered a party at Billabong headquarters (the space currently houses Hurley.) A bunch of surf dogs went to the party and asked him if Wahoo's could cater their events. The surging popularity later helped him open a fleet of locations across the U.S., which currently numbers more than 65 restaurants.
He's not just there for the dollar. Lam is a surfer. You'll also see him at action sports trade shows such as Agenda, he even chairs the golfing tournament at the annual Waterman's Weekend, the Surf Industry Manufacturers Association's big fundraiser for environmental causes.
You'll never see him change the look of the first Wahoo's store or its wall. "This is what I love; a surf shack. A surf shack in Mexico doesn't change," he said of his design inspiration.