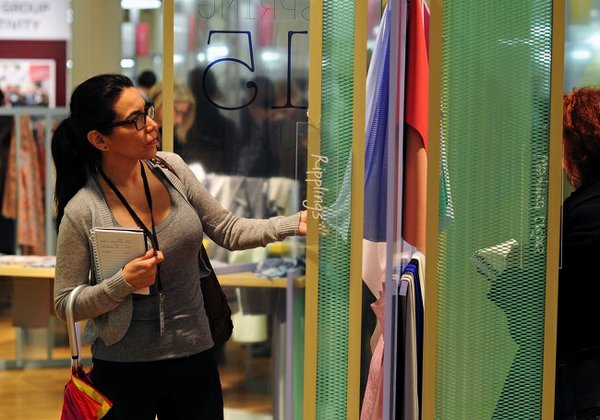 PREMIÈRE VISION NY
Exhibitors up 17 Percent at Première Vision Preview New York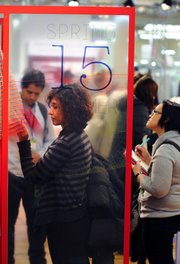 NEW YORK—Designers lined up in the cold, eager for the doors to open, as Première Vision New York and Indigo New York showed the work of textile and accessories designers from 15 countries, including Turkey, France, Italy, Japan and the United Kingdom.
The two-day show, held Jan. 14–15 at the Metropolitan Pavilion and Altman Building, drew 261 exhibitors—a 17 percent increase over 2013—and 137 studios showing on three floors of the Metropolitan Pavilion. So eager were new exhibitors to join the event, with only seven of 27 accepted this year, that this was the last time the organizers are using the two buildings. They are moving the show permanently to Pier 92. It's literally bursting at the seams, said Guglielmo Olearo, PV's international exhibitions director.
PV Fashion Director Sabine Chatelier offered an hour's presentation of Spring/Summer 2015 trends, calling it "the richest edition of the past decade." Materials are supple, light, tactile and sensual, and designs use fullness and volume through pleats, folds and sculpting, she said. "It's a sweet, soft season that needs no noise or bling. It has serene vibes." Blurred borders—between male and female, sportswear and casual, work and leisure—also inform how designers will work, she said. Neon and fluorescents are gone, replaced by soft, often pearly and iridescent tones. Translucence and transparency were also important themes. Favored prints will be small, tight geometrics or textures such as basket weave or airy, open netting and lace.
This played out for several exhibitors, including Sandrine Bernard, executive vice president of Solstiss, a French lace manufacturer. "The show was very, very good today," she said on Wednesday, Jan. 15. "Lace is really a trend for Spring, and people are looking for femininity and color. It's a happy feeling. Price is not an issue because people are looking for a sense of renewal, of rebirth. It feels as though we've come out of the crisis—lots of black, very simple designs. Now, people are ready for more fantasy. Even for bridal, they want something new." Bernard saw buyers from LA, San Diego and San Francisco buying looks such as a stretch lace combining both geometrics and florals, some in deep, rich jewel tones such as coral and navy.
At Bel Maille, East Coast agent Jason Bates said, "The show is going well. There are more quality people this year than last year. In previous shows, it was mostly students and start-ups." Buyers are willing to spend for the right thing, he said. "What they really need is quality. It's more important now to have nice fabrics. You need to give the consumer a reason to buy."
At the Debs booth, which represents the work of four mills: Debs, Efilan, Full Blossom and SMI, buyers—some of them from California—were responding most favorably to a polyester in cherry red, black and camel, with a silky hand and ashy, dusty look, said Alexandra Corwin.
Despite the dollar's weakness against the euro, buyers kept Michele Vigano busy piling up a mix of stretch jacquards, silks and stretch summer-weight bouclés. "They'll pay the price for the creativity," said Vigano, co-owner of Seterie Argenti, based in Italy. "We've seen quite a lot of important customers, from both the East Coast and West Coast," including St. John and Guess. Natural fibers in a matte finish were popular, as were his offerings in neutrals such as black, white, cream and beige. A popular choice was a bright pink, orange and yellow floral polyester jacquard, as were small geometrics in navy, turquoise and cream. Buyers were also drawn to a series of nylon/Lycra fabrics woven in a cream and black leopard pattern, one with unusually small spots that included some in gold.
At Philea and Velcorex, the 186-year-old French manufacturer, satin-backed crepes were extremely popular, said Hugo Sodee, Philea's area manager, visiting from Paris. Driven by its use by hot Paris designers such as Sandro and Vanessa Bruno, major American and British designers have ordered "hundreds of thousands of meters" for their own lines, he said, even at a price of $12 to $14 per yard. One, a navy and black satin, a tiny geometric print, was ordered by two major apparel brands. Another popular choice was a crepe-backed satin with a sparkling yarn, used in combination for the contrast of materials offered in colors from eau de nil to copper.
Buyers came to the two shows from across the U.S., with 1 percent or 2 percent from Mexico and about 5 percent from Canada, Olearo said.
There's a change in the air, he agreed, as price isn't as much of an obstacle as in past years. "The market is not only price driven as it was in the past. Now, people are focused on quality and telling a story to the consumer. Now, it's a different story."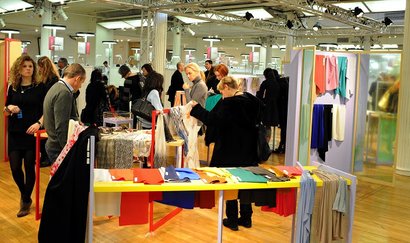 Print focus at Indigo
"Yesterday was super-busy," said Evangelista Sagnelli, whose Laguna Beach, Calif.–based Browne Dog Studio was showing at Indigo, a show for the textile design market. His booth was piled high with the images he sells, often to makers of athletic and beachwear, like that of a stunning deep-blue macramé shawl found for him by a source in Latin America. Buyers were looking for jungly, Cuban, tropical images, such as Leo Jungle, one combining leopard spots and palm fronds.
Like several other Indigo exhibitors, Sagnelli said he met several home-furnishing buyers this year. "You always think of apparel when you design these images, but now people look at them and can see them on a pillow or lampshade or duvet cover."
At the Liberty booth, Christine Doherty was busy showing the British firm's classic small florals, some of them newly rescaled and recolored for use in swimwear. "It's going really well," she said. While their prices are elevated by the cost of printing everything in Italy or the United Kingdom, she said, "There's a lot of demand for our products, so people try to fit them into their collections however they can." Even a dappled, deeply colored pattern—that looks like an impressionist's old palette board—has remained popular for use in men's beachwear since its introduction last year, she said.
Virgina Crofts, a French designer who sells her detailed paintings at Indigo, said this show, her second, was a success. Her colored paintings—small-scale, charming images of crabs, cars or ducks—were finding favor with makers of childrenswear. "It's been a very good show."