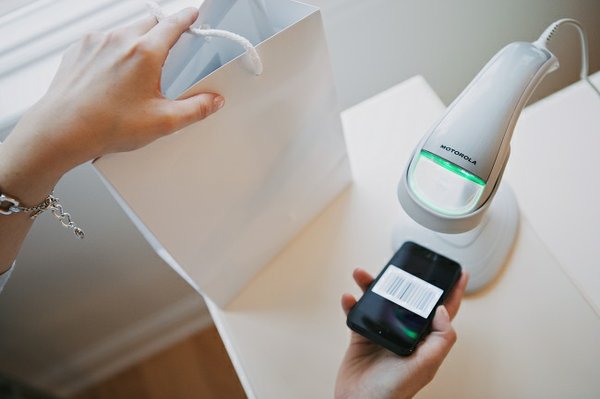 TRADE SHOW REPORT
Retailers, Brands Scout for New Tech at NRF's Big Show
NEW YORK—With 30,000 attending—a jump from last year's record 27,000 visitors—and 500 exhibitors, this year's National Retail Federation Big Show, held at New York's Jacob K. Javits Convention Center Jan. 12–15, offered the usual frenzy of meeting, greeting and selling as retailers checked out the latest in technology.
This year, however, was a big improvement from recent shows as retailers finally began opening their wallets to catch up with their competitors, agreed several exhibitors.
"We came away from the show with increasingly positive feelings," said Bob McKee, director, fashion industry strategy, for Infor, a New York–based provider of business application software.
"The past few years, the show has been quiet and slow for us, and the quality of those attending wasn't good. This year they were much higher quality, people who would and could make decisions about buying from us." McKee attributed the change to the economic recovery. "There's an explosion of retail in the Asia-Pacific region, and, in Europe and the U.S., the willingness to invest seems to have returned."
Infor's newest offering is its acquisition of PeopleAnswers, a cloud-based platform in 16 languages designed to help retailers hire and retain the best associates. The service analyzes 39 behavioral traits for job candidates to determine their fit rating. It's used by a variety of companies, including retailers Foot Locker and Neiman Marcus.
Omni-focused
Three phrases dominated this year's show: omni-channel, omni-marketing and customer experience. Vendors reported intense and growing interest in making sure that shoppers who want to move between e-commerce and bricks and mortar can enjoy seamless service. The key is maintaining the correct level of inventory, which is where using RFID (radio frequency identification) technology to easily track stock is essential, said Philip Harman, national account manager of Checkpoint Systems Inc. "I'm hearing a lot more about it. Omnichannel makes it critical. If I say we have it in stock, we need to have it! It's all about customer service."
"The customer is driving everything," agreed Charlie Lewis, senior sales executive for New York–based CGS, whose system offers retailers one software platform for handling multiple vendors. "Eight percent of IT is spent on legacy systems and keeping it all stitched together," he said. "They have to do this or they can't execute on multi-channel."
Payal Cudia, director of corporate communicationsfor Boston-based Demandware, said she saw "a ton of customers" interested in the company's new cloud-based tablet app for associates working in-store to access shoppers' online carts when they arrive, helping them find what they need quickly and easily.
"We're very focused on bridging the gap between the online and bricks-and-mortar world. As a shopper, I prefer the store see me as just one shopper—not just online or phone or catalog or in-store. It's the idea of creating one brand experience. It seems to be a big theme here this year. Bringing the digital world into the store is crucial in 2014. It's become more apparent now that this is something retailers realize they need," she said.
At the show, Motorola Solutions Inc. launched a sleek, attractive new scanner aimed at high-end fashion retail, the DS4800, designed with haptic technology that responds to the user's touch, whether gripping the handle or merely stroking a finger across it. Made of smooth, pale, gray matte-finish plastic, the scanner, which lies flat when not in use, can be customized in several ways, from a snap-out bezel that can feature a company's own logo to using a distinctive jingle or ring-tone—instead of a boring old beep. The device can also read barcodes directly from shoppers' phones, offering them a discount or confirming their membership in a loyalty plan.
"We really focus on the ergonomics of the job," said Robert Armstrong, marketing director, Americas enterprise. "It's not just beautiful but allows the associate to be more productive."
At PTC, a Needham, Mass.–based software manufacturer,Product Marketing Director Scott McCarley was showing the PTC Retail PLM Solution, which allows retailers to carefully track their products from initial idea through to point of sale.
"Globalization is a tremendous opportunity for new markets, but each retailer needs to match market needs to each region, so it's also a threat. Companies like Sears, JCPenney, Brooks Brothers and Nike all have a similar set of challenges. They need to be able to quickly grow their operations globally but across an increasingly global supply chain. The traditional sequential approach won't work," he said. Today, retailers must manage all these challenges simultaneously. "If a fabric suddenly seems too expensive, you can kill that choice immediately. [When PTC Retail PLM first launched] it was initially more focused only on product development, but now we've added in sourcing, costing and have configured it for mobile use as well, so designers can capture an idea on their phone while they're out on the road and share it with their teams."
One new benefit the program offers, he said, is transparency around labor practices, an issue for some consumers after the well-publicized collapse of clothing factories in Bangladesh. "It is a concern," he said. "There's a real microscope on the apparel industry around their sourcing practices."
At TradeStone Software, based in Gloucester, Mass., Cari Karonis, senior vice president of product and services, said the company was pleased by interest in its products. "There were a lot of people we didn't expect to see. Last year, the word omni-channel was all you'd hear about. Now, omni-market is all-important. The goal is to get the right assortment of products to all the markets you serve, including franchises. An XS or XL is very different between Japan, Europe and the U.S.," Karonis said. Companies such as Ascena, with brands including Dress Barn and Maurice's, are using their system to track inventory across multiple brands serving very different market segments.
At Avery-Dennison, R.Scott James, marketing communications manager, Americas, said retailers such as JCPenney, Walmart and Macy's are increasingly interested in its RFID technology, which tags items at the manufacturing source, allowing easy, quick, accurate and non-invasive scanning of inventory as it moves through the supply chain. While it's been used on apparel, the company is now applying it as well to shoes, intimate apparel, childrenswear, and even cosmetics and jewelry.
Inventory remains "the fly in the ointment," he said. "A distribution center can send a customer to a nearby store, but if their inventory isn't at that level—typically 75 percent to 85 percent accuracy—you've got a problem." Using its RFID tags—each of which, like a car's vehicle identification number, or VIN, carries a unique number—speeds stock taking tremendously, from 250 barcodes an hour using a hand-held scanner to 20,000 an hour, he said. At a cost of 7 to 8 cents per tag, "it is a big investment for a retailer," James said. "But you're not competing on price anymore. It's 'How can I sell this faster? How can I keep it in stock?'"