As of Thursday, September 18, 2014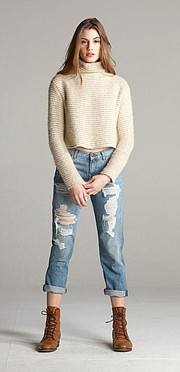 When Giuseppe Valentini, Nikolas Apostolopoulos and Chris Berdine decided to create a women's clothing line, they turned to Shakespeare to design a collection for the modern-day Juliet. Taking inspiration from the strength and romanticism of Shakespeare's passionate character, the Los Angeles–based team introduced Capulet, clothing for the edgy, rebellious, dreamer type. This eclectic, carefree spirit fits the prototype of the LA woman.
"She's sophisticated and empowered. She is selective but not driven by fast trends or high-end brand tribalism; she mixes high with low. She doesn't take herself too seriously. She follows her heart," Valentini said.
The finely tailored pieces nod to a grungy, '90s nostalgia with added femininity. There is a juxtaposition of spring florals, wintery plaids and striped patterns, maxi dresses, scalloped skirts, and jumpers, as well as preppy blazers and racing moto jackets.
Valentini, Apostolopoulos and Berdine are longtime friends with shared backgrounds in apparel and tailored menswear. "While we were designing for men, our female friends kept asking us to dive into womenswear. So we did," Valentini said.
After attending the Fashion Institute of Design & Merchandsing, Valentini worked as a designer for sportswear and menswear brands. With his experience, Valentini provides a "refined Italian touch and a relentless attention to detail," Berdine said.
Australian-born Apostolopoulos has a background in fabrications and manufacturing. "Apostolopoulos is an integral [part in] our design and product-development process, also managing all aspects of domestic and overseas production," Berdine said.
Berdine, who attended the University of Southern California,was previously at American Apparel from 2005 to 2010, where he helped build the company's brand and imagery. He later transitioned into art direction and design services for artists such as Frank Ocean and Kanye West. Berdine lends his knowledge in design, advertising, brand positioning and strategy to building the Capulet brand.
The line includes sporty Modal tees, chiffon button-downs, cropped sweater knits, leather mini skirts, vegan-leather bottoms and outerwear. For Fall 2014, the collection shifted from casual basics such as the parka and vintage-inspired lightweight military jacket to more-formal men's suiting-inspired blazers and vegan-fur aviator coats, Apostolopoulos said.
All of the pieces are manufactured in Los Angeles, China and Turkey, depending on the garment. "Finding the right fabric is a crucial part of our process," Apostolopoulos said. The 2014 FW collection includes leather, Italian jacquards, Italian plaid, neoprene, Italian Aztec-textured blends, vegan leather, Ultrasuede and vegan furs.
"Although we produce some styles in genuine leather, we know that a large portion of our customer base is more conscious, preferring not to buy genuine leather. We appreciate this, so each season, we source or develop beautiful vegan leathers and vegan furs, allowing our customers to still get the look [of leather]. We've also found that certain styles, like our moto pants, fit better in the vegan leather," Apostolopoulos said.
The designers attribute the fit and subtle details in the garments to their background in menswear. "Our peak-lapel double-breasted blazer has an elegant fit with a leather elbow patch, giving the garment a distinctive, feminine look. Our wrap jacket is another versatile piece that is vintage-inspired and comfortable, perfect for both the beachcomber and city girl," Apostolopoulos said.
Wholesale price points vary according to item, with graphic tees priced at $29, a zip-sleeve sweatshirt at $66, a maxi dress at $80, vegan-leather jumper at $122 and vegan moto pant at $70. The leather skirt with side lacing is $110, and jackets can go up to $227.
Capulet will be showing at ENK Vegas in August and Coterie in New York in September.
The line is currently sold at specialty boutiques and online retailers, including Revolve Clothing, Asos, Nasty Gal, Planet Blue, Free People, Anthropologie and Urban Outfitters.
For sales inquiries, email elizabeth@communityserviceshowroom.com or call (213) 624-0824.