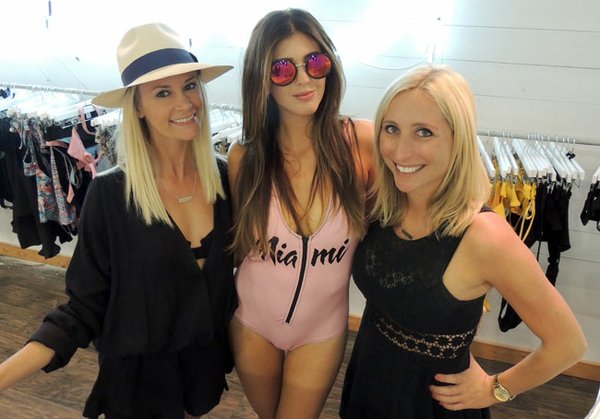 MIAMI'S SWIMWEAR TRADE SHOW
Business Makes a Big Splash
MIAMI BEACH, FLA.—The trend for women's swimwear is getting skimpier, but the market for bikinis, one-pieces and coverups is becoming a much bigger business.
U.S. swimwear sales increased 6 percent in the 12 months since May to a total of $4.4 billion in sales, according to market-research firm NPD Group. It could be a bright spot in an economy that many observers judged as mixed. On July 23, National Retail Federation lowered its 2014 retail forecast to an increase of 3.6 percent, compared with an increase of 4.1 percent, which it forecast in January. The trade group kept its forecast of sales growing and being strong in the latter half of the year.
The higher stakes in the swim business was reflected in the expansion of two of the three trade events held recently in South Beach, Miami's art deco–inspired hotel and nightclub district. Both the longstanding SwimShow and the more recently launched Cabana doubled in size during their recent July 19–22 runs. The third show in Miami Beach, the upscale Salon Allure show, maintained the same size as last year.
With the backdrop of a recovering economy and the glamour of the Mercedes-Benz Fashion Week Swim, which also took place in South Beach at the same time, Miami's swimwear trade shows added more competition for buyers' attention in a market growing in fashion sophistication and striving to grow beyond its roots as a seasonal business.
Swim retailers from across the board shopped the SwimShow at the Miami Convention Center. There were majors such as Nordstrom; national specialty chains such as Pacific Sunwear, Tilly's and Urban Outfitters; regional chains such as South Moon Under and Diane's Beachwear; Internet majors such as Amazon.com; and specialty shops such as the Beach House of Naples.
For Torrance, Calif.–headquartered retailer Diane's Beachwear, business has made a big rally, said Diane Biggs, founder of the 51-year-old retailer with 18 locations, which are open throughout the year. She said 2014 has been the best year for business since 2007, which was a landmark for the company. "The economy is back. The girls are traveling and spending more money for their suits," Biggs said.
As a category, swimwear is expanding beyond its roots as a seasonal style, said Fraser Ross, founder of the Kitson chain of boutique stores. His buyers did not attend SwimShow, but swimwear is sold year round in Kitson's locations, mostly in Southern California, where there is warm weather 12 months out of the year. Tourism also creates an important market. "For a lot of people looking to get out of a deep freeze, 70 degrees is tropical, and our December sales are just as good as our June sales," Ross said.
Judy Stein, SwimShow's executive director, said the floor plan more than doubled. It filled up four halls of the 1 million-square-foot convention center, compared with two halls in July 2013. There were 100 new booths, which were occupied by some of the dominant players in the swim market, including L*Space by Monica Wise; Manhattan Beachwear, which makes brands such as Trina Turk and Nanette Lepore Swim; novice brands such as Elizabeth Jane of Seattle; Amuse Society of Costa Mesa, Calif.; and well-known brands that have returned after an absence of more than one year, such as O'Neill and Volcom.
Other vendors offered everything from the lingerie-inspired swim of Beach Bunny, which produced a runway show at Mercedes-Benz Fashion Week; juniors swim of Cool Kids and Just Bones; environmentally friendly Eco-Swim by Aqua; sandals from Cobian; activewear from Prana; and fur and leather aprés swim from Katharine Story of Laguna Beach, Calif. According to some vendors, the eventual price tag to finance a trade show booth could be over $30,000, which includes building out the booth and flying out a team to staff it.
Many said SwimShow is a place to make a swimwear splash. Volcom returned to the show after a two-year break, said Erin Hawley, senior director of sales for Volcom women's and swim. "Being here helps expand people's views of who we are," Hawley said.
Last year, Jason Steris, Volcom's chief executive officer, hired a new women's swim designer, Tori Smith, and assembled a new team to build sales for Volcom women's. After more than two decades of being best known for young men's surf and skate looks, it was the job of Hawley and her team to reintroduce Volcom's lifestyle brand for women ages 17 to 24. It takes a lot of repeated introductions, and having a big booth at the show can put the brand on the radar screens of press and buyers, she said. Volcom's 20-by-20-foot booth featured a mini-runway, dressing rooms for models and tables that looked like they were made out of brick.
O'Neill Women's showed an activewear line called O'Neill 365, as well as Hybrid, a line of clothes that could be worn in the water or to the gym, said Lindsay Henkels, O'Neill's director of sales.
She said the booth was busy with appointments, but competition from Cabana and Salon Allureat the W Hotel took its toll. "They're bouncing back and forth from show to show," Henkels said. "It takes away from this show. But overall it was a good experience."
Executive Director Stein, who has been running SwimShow for 17 years, said in a statement, "The mission of our organization has always been about quality, quantity and convenience. We look forward to not just meeting but surpassing these expectations with the top brands and the most significant buyers all under one roof."
Ronen Jehezkel of New York–headquartered Parke & Ronen swimwear displayed men's swimwear with a tailored look as well as activewear clothes from the brand. He agreed that the increased competition may have drained some buyer traffic from the show. He also noted that the SwimShow, like many other high-marquee events, wasn't necessarily a show for landing orders. The great majority of buyers were researching and browsing the lines and would place orders a couple of weeks after the show. He did land six leads for new accounts. "It is the point of doing a trade show—finding virgins," he said.
Justin Jones, founder of the Elizabeth Jane swim line, said he wrote business for his line. "We're going to walk away from the show doing well. We ended up with enough orders that will pay for the show and others." Elizabeth Jane's swimwear retails for $120 to $150.
Some of the season's trends included increased attention to activewear styles and skimpier swimwear. Some of the season's main trends focused on the bottom, said Amy Coronado, a buyer for Diane's Beachwear. "There's a resurgence of the thong," she said. "But they are calling it cheeky. [Bottoms] are becoming smaller on the backside but higher in the waist."
She also noted that knotting, or placing a cat's cradle-style design of straps around the neck area of suits, has been popular, as well as crochet styles.
Salon Allure emphasizes the new
For its July 19–22 run, the Salon Allure trade show hoped to emphasize the new.
The luxe boutique show for resort, swim and accessories unveiled a new layout, which spread its vendors around the seventh and eighth floors of the W Hotel in Miami's South Beach district. The show producers also wanted retailers to try new brands and looks.
"They are hesitant to buy new lines," Rick Fatzinger, managing partner of Salon Allure, said of retailers, but they were reconsidering old practices at his show. "They are buying new lines."
The boutique show featured 40 brands in 36 suites commanding ocean views. The brands were housed in suites to cultivate privacy, which was intended to increase opportunities to write orders, Fatzinger said. Some brands were new to the show, such as Honey Bee, headquartered in Dallas; eco-brand Koru Swimwear; and fashion swim brand Venice Rani. Others, such as Issa de' mar and Stone Cold Fox, made a return to the show. Shapewear label Spanx debuted a new line of swimwear at the show. Salon Allure vendors Mikoh, Indah and Caitlyn Kelly Designer Swim produced runway shows at Mercedes-Benz Fashion Week Swim.
Retailers including Nordstrom, Macy's, Bloomingdale's and Nasty Gal and specialty shops such as Hot Wax in Wilmington, N.C., browsed the show.
Billi Doyle of Honey Bee said that four stores left paper for her emerging brand and a magazine requested that she send samples to the periodical's stylist. Tina Rani of Venice Rani also reported seeing high-profile retailers but added, "I didn't see the foot traffic that I hoped for."
Strong second showing for Cabana
The producers of Cabana hoped to build a home for the luxe boutique swim market in two giant white tents during the show's July 19–21 run at the beachside green space Collins Park in Miami's South Beach district.
The show was held adjacent to the W Hotel, where the Salon Allure swim trade show, also focused on the high-end boutique market, was housed.
Cabana's nomadic venue attracted retailers such as Neiman Marcus, Bergdorf Goodman and Fred Segal/Ron Herman and e-commerce emporiums such as Nasty Gal and Net-A-Porter. They viewed emerging brands such as Flagpole Swim, which is designed in Brooklyn and manufactured in Manhattan. Also exhibiting at the show were established boutique brands such as Zero + Maria Cornejo, along with some of the labels that also produced runway shows at Mercedes-Benz Fashion Week Swim. Some of these brands were Minimale Animale, Tori Praver, Suboo, 6 Shore Road by Pooja, Clover Canyon and Mara Hoffman.
Drinks in coconut shells were served at the show, but the tent's air conditioning broke down once in Miami's 90-degree heat. Still, most vendors seemed to enjoy the show. "It was really strong," said Theo Smallbone of the Venroy brand, which runs offices in Australia and Los Angeles." It's on the beach, and it doesn't have to accommodate so many brands."
However, growth was part of the evolution of Cabana. The show debuted last year with 38 brands in one 13,000-square-foot tent. This year, it added a 15,000-square-foot tent and hosted 100 brands, said Janet Wong, co-founder of Cabana and buyer for the Miami location of New York–headquartered boutique Atrium. She partnered with Sam Ben-Avraham, founder of Atrium and the Liberty Fashion and Lifestyle Fairs show, which runs biannual shows in New York and Las Vegas.
"We discovered a lot of new brands that fit into our aesthetic, which allowed us to grow in a way that represents quality over quantity," Wong said of the growth of the show. But the growth spurt did not mean a change of show culture, she said.
High-end and fashion women's swimwear was the show's focus. Cheyann Benedict exhibited caftans with a floral graphic from artist Sage Vaughn. Venroy offered men's button-down shirts and tailored swim trunks that are wholesale priced from $40 to $60.
There were a range of price points at the show. The Made in America suits by Flagpole wholesaled for $160, said Jaime Barker, the co-founder of Flagpole. "We unfortunately almost always meet price resistance," Barker said. "We have only had a few meetings where price was not an issue." However, she and business partner Megan Balch said that Cabana was the right place for their unique brand. "This is a curated show for the right price point," Barker said.
Lisette Polny, chief operating officer of Los Angeles–based Cheyann Benedict, said many of the retailers she met with seemed optimistic about the future. "People think that this is a 'buy now, wear now' market. But I think people are getting comfortable with placing future deliveries. Maybe the retail climate is changing a bit," she said.