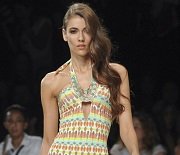 FASHION
Onda de Mar Hits the Runway at Colombiamoda
The runway was hot, hot, hot when swimwear manufacturer Onda de Mar took to the runway Thursday on the last day of Colombiamoda in Medellin.
The swimwear company with an international presence was showing its well-designed one pieces, bikinis, men's board shorts and resort wear at the trade show that had 29 fashion shows during three days that had 29 fashion shows.
Onda de Mar was strong in prints that veered toward geometric images that took their cues from the 1960s and 1970s in a collection called "Bahia Glam."
The color palette was strong on an eye-friendly blue that was paired with white. There were also prints strong on browns and blacks as well as a peach and white print that looked good on the models.
The company, founded more than 13 years ago, has been undergoing a slow global expansion since it was bought in 2006 by a Colombian private investment group.
Onda de Mar has a store on Robertson Boulevard in Los Angeles.